How It's Made
Color inspires me, and few things make me as happy as a rainbow burst of messiness on paper or canvas. I feel so much joy while creating work like this, and I'd love for you to give it a try.
I will link all of the materials I used to make this piece, but you can use your own supplies if they produce similar results. You don't have to get the exact stuff I use in order to make joyful art.
My favorite part about this piece is the metallic embellishment at the end. Let's jump in and see what you're favorite part is!
MATERIALS AND SUPPLIES I USE:
*Links contained in this post are affiliate links for Amazon or Dick Blick and I will earn a commission if you make a purchase at no additional cost to you. These commissions help fund more content like this, so thank you!
Brea Reese Watercolor Inks
White Watercolor (I used Brea Reese, but you can use the white ink below.)
Watercolor Brush
Dr. PH Martin's Pen White Ink (Amazon)
FineTec Artist Mica Watercolors – Pearlescent set of 6 (Amazon or Dick Blick)
Tachikawa Comic Pen (Amazon)
Canson XL Cold Press Watercolor Paper (Amazon or Dick Blick)
Pencil and eraser
Water and palette with wells
General Directions:
First,cut your paper to the size you want to work with. I cut this piece to 8″x8″, and then I lightly drew border lines 1/2″ from the edge of the paper with a mechanical pencil.
The general outline for this piece is as follows:
Fill in background colors working from the top left, to the right, down the right side, around the bottom, and then meet back up in the top left.
Darken areas of the background to create more shadows.
Add fluffy white bits with white ink or watercolor and blend with the colors to create highlights and cloud-like formations.
Draw white lines.
Draw gold lines.
Embellish with flecks of white and gold.
THE BACKGROUND: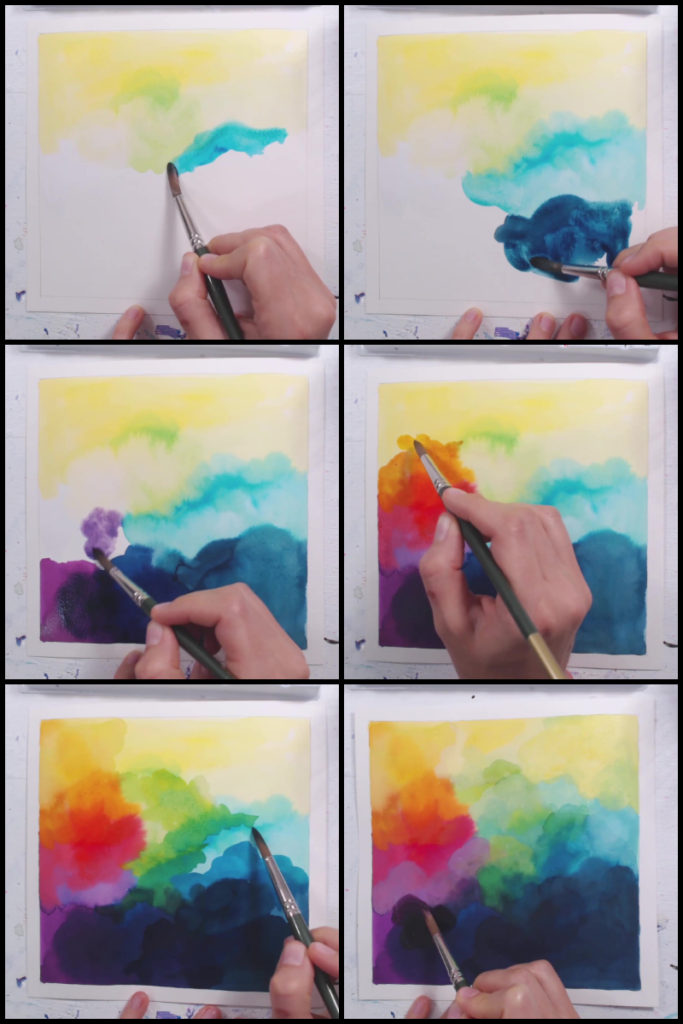 Using the size 10 watercolor brush, wet the upper half of the square within your pencil border with water. Apply a small amount of yellow watercolor ink in the upper left corner and work your way to the right.
Then, mix a little lake blue into the yellow to create a subtle shift from yellow to green. Then, add more lake blue but do not blend as much so there is more of a distinct difference between blue and green. Mix in a little water if your colors look too saturated. We are starting light.
On your paint palette, mix water and ultramarine blue with orange to create a deep Prussian blue color. Work this into your paper under the lake blue. Then work your way across the bottom of the paper then add violet, then a plum like color (violet mixed with magenta), and a bluish violet (lake blue mixed with violet). Then up the left side, blend upwards with magenta. Then blend in orange until you meet up with the yellow.
Once you complete your first round of color application, start to add in shadows around the piece with all of the colors above with less water. With this round, you will not blend the colors as much, but focus on developing shadows and creating more rigid lines between colors.
Then, apply highlights. I used white watercolor and mixed lighter shades of a few of the colors and blended this into sections of the piece to create fluffiness of the "cloud" formations.
Let it dry.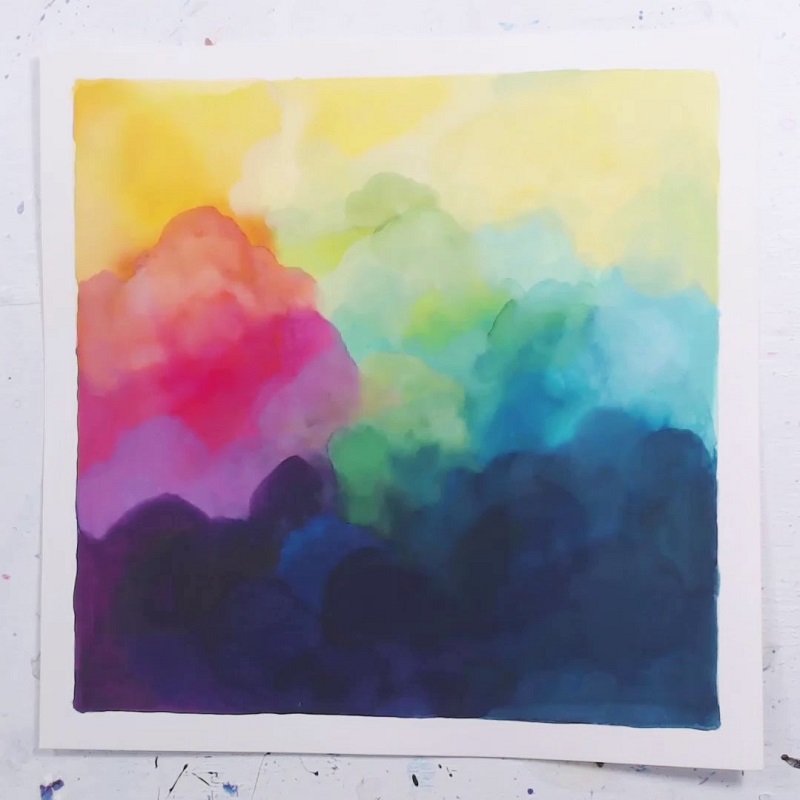 The Line Work:
The White Lines: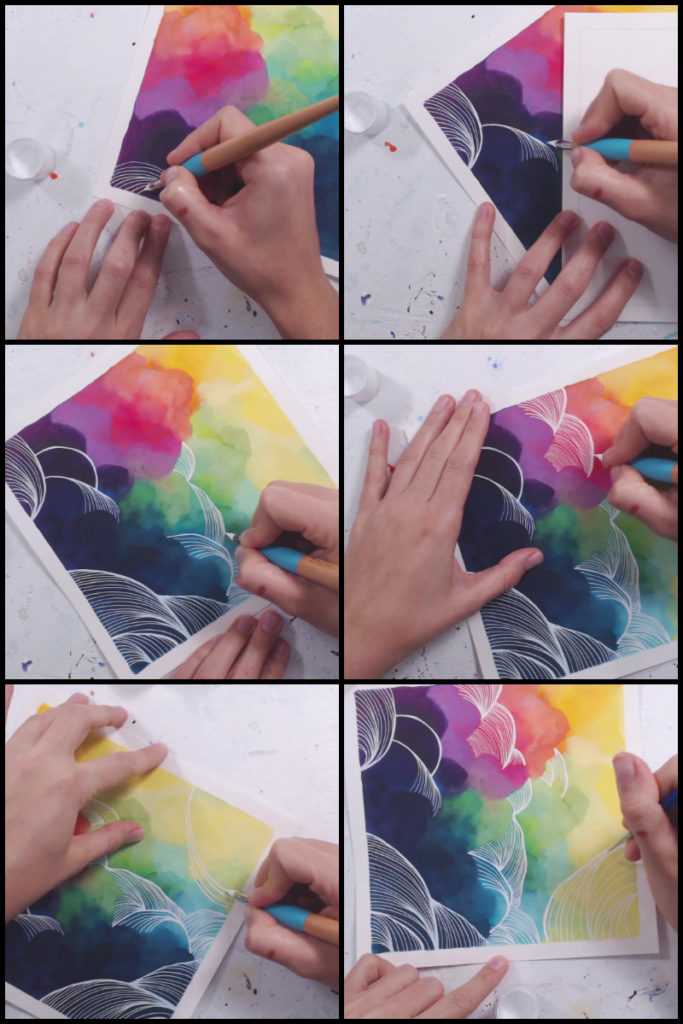 Using the Tachikawa pen and Dr. Ph Martin's Pen White Ink, it's time to create the bubbly white line work.
I just bought this new pen off of Amazon and I love how it performs. When you buy a new pen like this, you will need to prep the nibs for use. New nibs have a film to protect the metal that you need to remove or your inks won't work properly. The easiest way I've removed the coating is to put the nib in the pen, then take a lighter and heat the nib for a few seconds on each side and then wipe it with a cloth. (Obviously, don't burn yourself.) Try dipping the pen in ink before removal and see how the nib appears a bit waterproof. After heating and wiping it off, try again. You'll see a difference. You may need to heat and wipe the nib a couple of times. Before moving onto your art, test the nib and ink on scratch paper and get a feel for how it works.
Once your nib is prepped, dip it into the ink and start applying lines. I start in the lower left corner and work my way up. First, I create lines independent of the underlying colors below, then as I move up, I place my lines around the "cloud" formations to accentuate the underlying shapes. This process is a bit intuitive. Feel it out. Put as many or as few lines as you feel comfortable with.
Be careful not to run your hand over areas that are still wet. I usually take a couple of breaks to let sections dry before moving on, but he ink doesn't take long to dry.
The Gold Lines: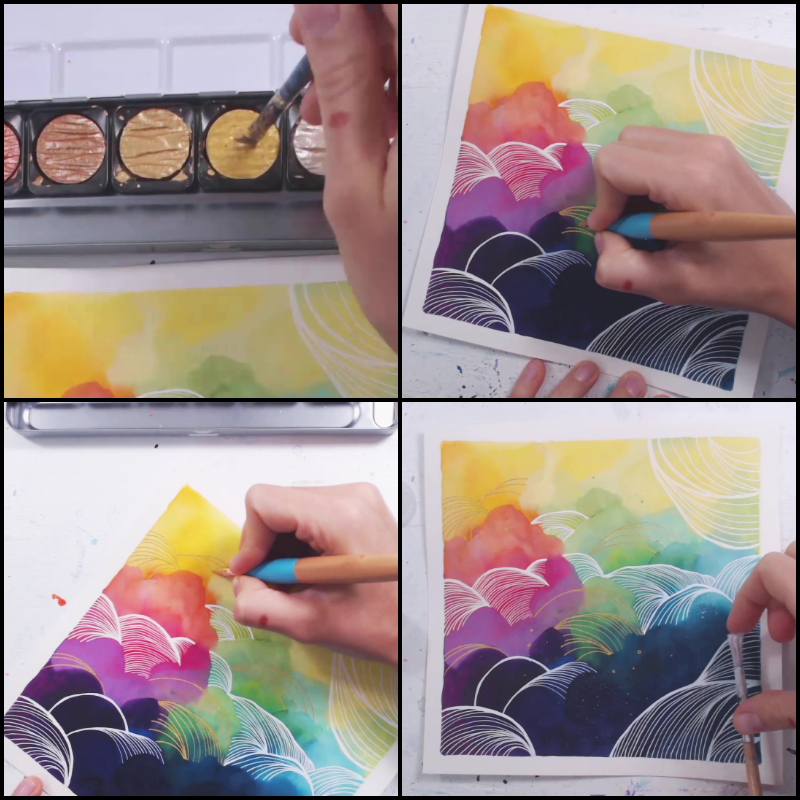 This is my favorite part! I love testing out different metallic gold products and FineTec Mica Watercolors are fricken amazing. They are easy to work with. You can apply with a brush, or with a sketch pen. Most importantly, the paint shimmers beautifully. I bought the set of 6 a while ago and really need to use them more. For this piece, I used Arabic Gold.
To work with this product, I take a small brush and dip it into water. Rub the brush on the surface of the paint pan until it starts to soften. I usually dip in the water a few times to deposit more water onto the pan. I rub the pan until there is a layer of viscous paint on the surface. Then, I take the brush, load it with some of the paint, and then deposit it onto the front and back surface of my Tachikawa pen nib. It's ready go. (Test it on a scratch piece of paper! If it doesn't flow, you may need to add more water to the pan.)
When applying the gold lines, I follow the same idea as the white. Accentuate the curves of cloud formations.
Stars/Speckles:
When done with the lines, it's time to add the last bit of detail. Before I clean my gold from the nib, I draw a few dots/stars in the darkest open areas of ink. Then I take a coarse bristles brush and dip it into the Pen White Ink and flick the bristles to create fine speckles on different areas of the work. You can hand draw the dots as well. I focus on open areas without line work.
And that's it!
Look at how the gold shines when tilted into the light! Ah, I love it!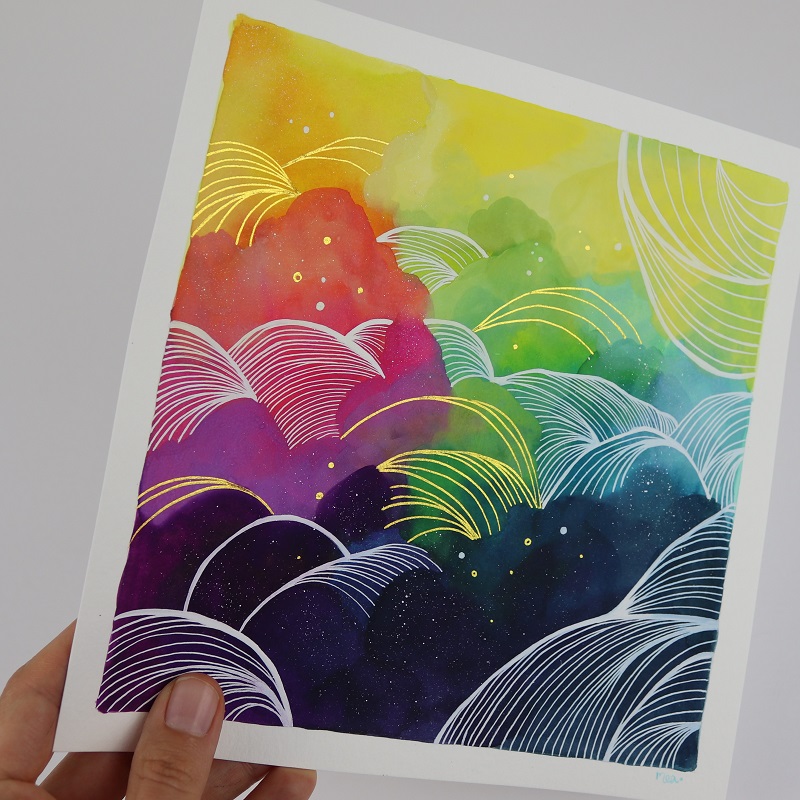 ***
If you enjoyed this little tutorial and want to learn more, let me know through Instagram or Email, or consider becoming a Patron of mine to support more content like this. Now go get messy and share your creation on Instagram using #messyeverafter!
-Kelly
SUPPORT MESSY EVER AFTER ON PATREON:
A lot of artists don't like to share their secrets, but I'm an open book. If you enjoy the content I create and the advice I give to other creators, please consider becoming Patron of mine on Patreon. Pledging as little as $1 a month supports this content and my career as an artist.
Further Reading: