My Current Favorite Supplies
MEA's October 2018 Look in the Artsy Tool Box
Hey! It's time to share some of the supplies I've been working with lately. As always, the links in my blogs are affiliate links from Dick Blick and Amazon and I will earn a commission if you make purchases within 24 hours (yay!), but this in no way changes the opinions I give about the products I use. I share what I love. Simple as that.
Brea Reese Watercolor Inks
I've been testing a lot of supplies from Brea Reese and these inks are outstanding. I've used other brands like Higgins drawing inks, but Brea Reese Watercolor Inks win. They are also lower in price which always makes this frugal artist happy.
My favorite colors:
But, considering the awesome price you may as well get them all!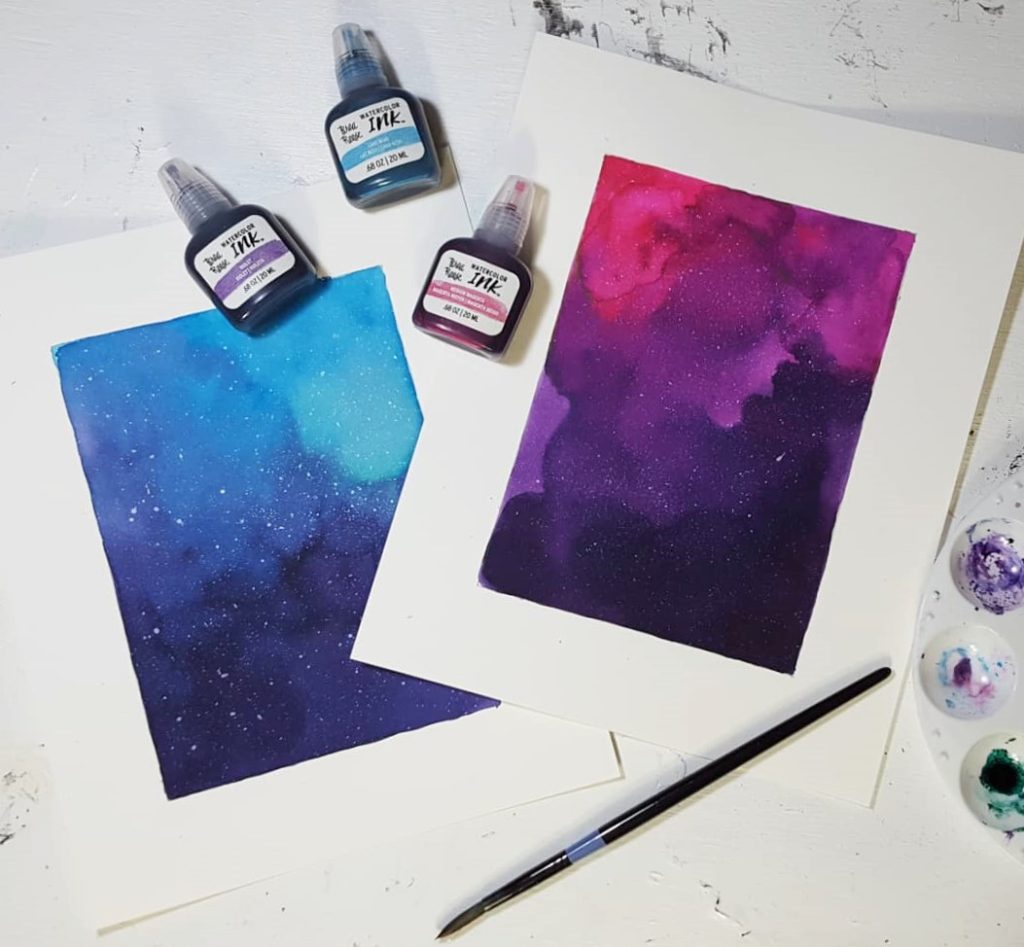 I can't say it enough. I love these inks. The vibrancy, saturation, and coverage is wonderful. Not to mention they look awesome when you dip your paint brush in water.
View this post on Instagram
Opaque White Drawing Ink and Pen
You know my style by now. I LOVE drawing white lines. I like 'em swirly. I like 'em straight. Most importantly, I like 'em crisp and opaque.
I've tried many supplies to get the look I crave. I've used gel pens, white drawing inks, colored pencils, paint markers, and a teeny tiny brush with acrylic paint. Almost two years ago I discovered fine line applicators for my acrylic paintings, but it was only a couple of weeks ago that I found the perfect drawing ink for my drawings and watercolor paintings.
I use this glorious ink with a simple sketching pen and I don't think I'm ever going to need another white ink again.
Try it. Love it.
View this post on Instagram
Watercolor Papers
If you've ever worked with the "wetter" kinds of media, you know the importance of a quality, heavy watercolor paper. Regular paper will warp and rip. Mixed media paper can't handle much moisture beyond markers, and cheaper watercolor paper will still warp when soaked. The only downside to good paper is that it's also a bit painful on the bank account.
I always start with budget materials when practicing and slowly work my way up to the good stuff. Here are the papers I currently use:
***
And that's all I've got for now! Thanks for taking a look inside my tool box! Let me know if you have any questions about the materials I use. I'm always happy to share my tips and techniques to help you find your creative path.
Now go get messy!
-Kelly
P.S. If you enjoy my blogs and gain any inspiration from the content I put out there, please consider becoming a Patron of Messy Ever After on Patreon. Pledging just $1 a month enables me to keep doing what I do. Plus, you get extra little perks like phone wallpapers and the ability to pick my brain whenever you want through the artist Q&A perk.
Further Reading: