Perfect Flavorful and Healthy Dinner Recipe
There are a handful of recipes that I make every week and never get sick of. This stir fry is at the top of the list.
You'll notice a trend in my eating habits. I eat crap ton of veggies and a crap ton of rice. Plants are the best. If you don't like plants, you should probably move along.
In all seriousness, this recipe is flavorful and healthy. I have a huge appetite, so I always make sure that I can eat a ridiculous portion of whatever I cook without fearing for my health.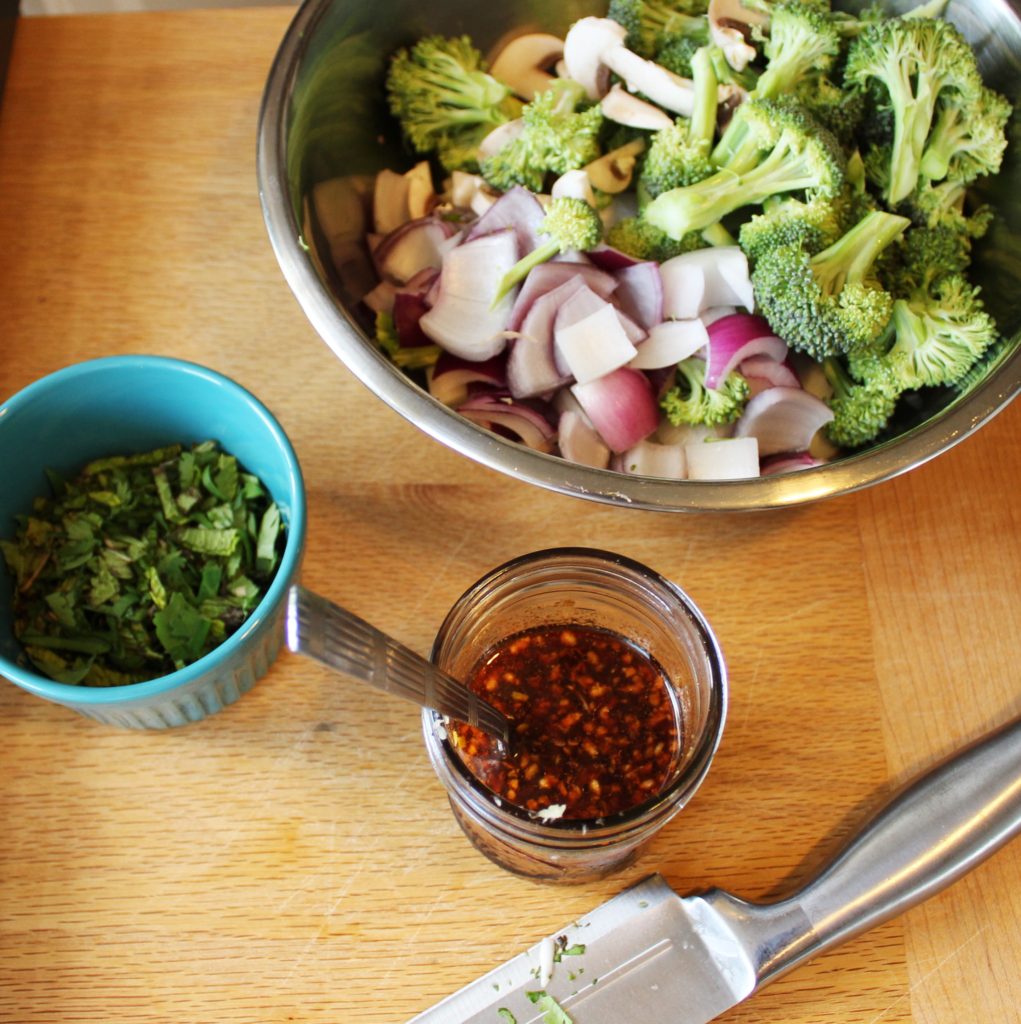 Chicken Stir Fry with Mint, Cilantro, and Garlic
Servings: 4

General Ingredients 
1 1/2 medium white or red onion (I use half of one, whole of the other)
2 cups broccoli florets
1 1/2 cups chopped white mushrooms
2 chicken breasts
1 cup white rice

Sauce: 
4 cloves pressed or diced garlic
3 tbsp brown sugar
1/4 cup soy sauce
2 tbsp Sriracha 
1 tsp sesame oil

Garnish/Toppings:
Handful fresh mint
Handful fresh cilantro
Couple tablespoons sesame seeds
Dried red pepper flakes

1. Start cooking rice. I use a rice cooker, because they are awesome. It takes about 30 minutes and it's done by the time everything else is. I also cook the whole chicken breasts on their own ahead of time so I don't have to clean raw meat off my cutting board. Yes. I'm lazy and have a fear of raw meat. For the sake of doing things exactly like me, cook breasts on medium heat with a smidgen of oil, salt, and pepper.
2. Cut your broccoli, mushrooms, and onions into convenient bite size pieces. Set aside. 
3. Combine pressed garlic (Get a garlic press. Best thing ever.), brown sugar, soy sauce, Sriracha, and sesame oil. Set aside. 
4. Chop cilantro and mint, set aside. Seriously, you need both of these and you need them fresh. Trust me. 
5. Heat your pan or wok on high heat. Also, get a wok and season it properly. I'll never go back to cooking stir fry any other way.
6. Add a bit of oil to the pan. Toss broccoli, mushrooms, and onions in. Cook on medium-high heat for a few minutes. Toss and make sure nothing burns. 
7. Move veggies around to the sides of the pan to create a 'well' in the middle. Pour sauce mixture in and let bubble for another couple minutes. 
8. Toss cooked, cubed chicken in the pan. Stir it all together so everything is coated in the sauce. 
9. Turn off heat. Plate up. My preferred order of ingredients is: rice, stir fry, mint and cilantro, sesame seeds, and a couple shakes of red pepper flakes for extra heat. 

Enjoy! 

Visit the Edible Masterpieces page to see more recipes.