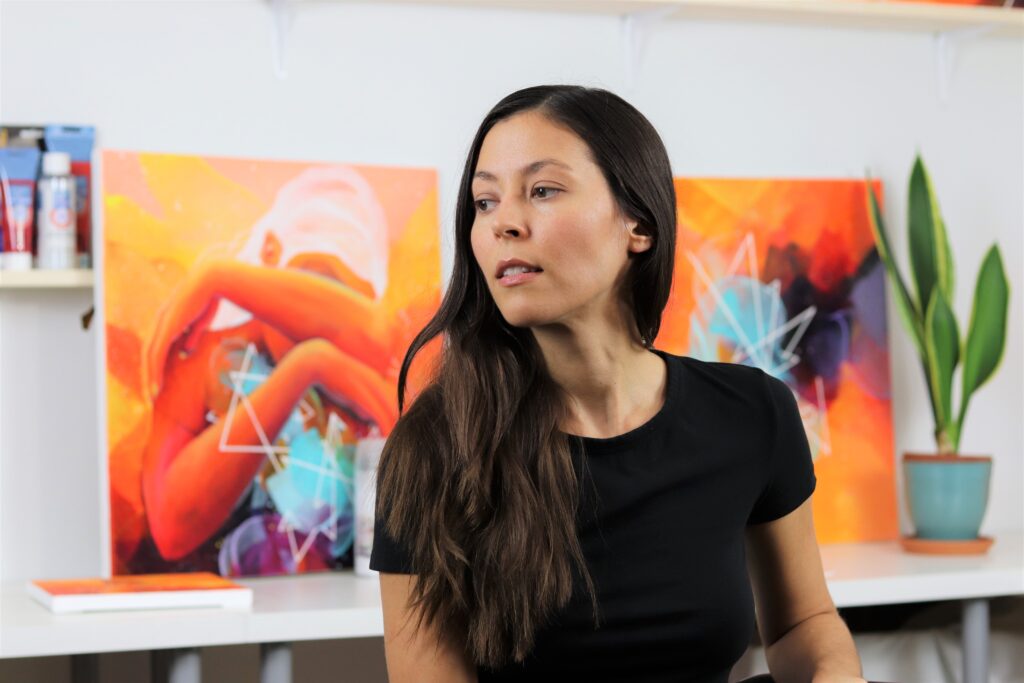 Hi, I'm Kelly! I'm the artist behind @messyeverafter.
Basic info: 
Born and raised in the Midwest, I spent most of my life in Minnesota before taking a brief adventure to Southern California from 2018-2020. Now, I live in Minneapolis, MN with my Texan, guitar building partner.
Even though I'm an artist, I spent a good chunk of life trying not to be one. I went to college for a variety of things (biochemistry, creative writing, psychology, and art), but never quite settled on one topic. Happily, the university I attended allowed me to graduate with a very unconventional Bachelor's degree. Through my adult life, I thought a standard 9-5 job would be for me if I just forced myself into it over and over again. Turns out I go a little crazy in those environments. I quit my last 'normal' job on a finance team for an IT company in October of 2016 and finally embraced my artistic identity.
Fun Fact: 
I sign my work as 'MEA', because Messy Ever After has become more of an identity than my own name. You can call me Kelly. You can call me Messy. You can call me Mea. You can call me whatever you want, but when my art is finished, Mea takes responsibility. At least for now…
About me as human being:
I've always been a little bit of an intense weirdo that feels way too much. I can't watch horror movies, because the imagery sticks with me for days. I get lost daydreaming quite often. My head is full of ideas. I am passionate about art and all things creative, but I have a strangely analytical mind (data and spreadsheets are my favorite!). I can't help but be kind, because life is too short to be mean and angry. I overthink everything, and have a hard time cutting myself slack. I love watching others succeed and grow, and the most fulfilling thing in my life at the moment is knowing I can be a source of inspiration and kindness for others.
About my art and inspiration: 
I love working with saturated colors, movement, and organic flowing lines and details. I am inspired by emotions and energy, because I experience so many of them in my internal landscape. Art is a way for me to get lost and roll around in the beautiful chaos around us and inside of me.  Art is also how I leave those emotions behind. I feel it, channel it, create, then walk away. Which is why it might seem like I don't take myself or my art too seriously at times. Some of my pieces are moments trapped in time that I'm okay leaving in the past. Which is just another way to say "please buy my art and take it away before I burn it or paint over it."
The other things I do with my life:
I sometimes make YouTube videos.
I blog about things other creative people might find useful.
I sing loudly in the car, even though I'm pretty sure I am terrible at it.
I sleep a solid 8 to 9 hours a night, because I'm worthless without it.
I'm accidentally funny sometimes.
Any questions?
-Kelly
Want to work with me?
I am open for commissions, commercial licensing, creative workshops, and more. Email at kelly@messyeverafter.com.
Have any questions?
From blog post suggestions, commission requests, or even random questions, I'm happy to talk with you.
Want to help support Messy Ever After?