Artist: Kelly Helsinger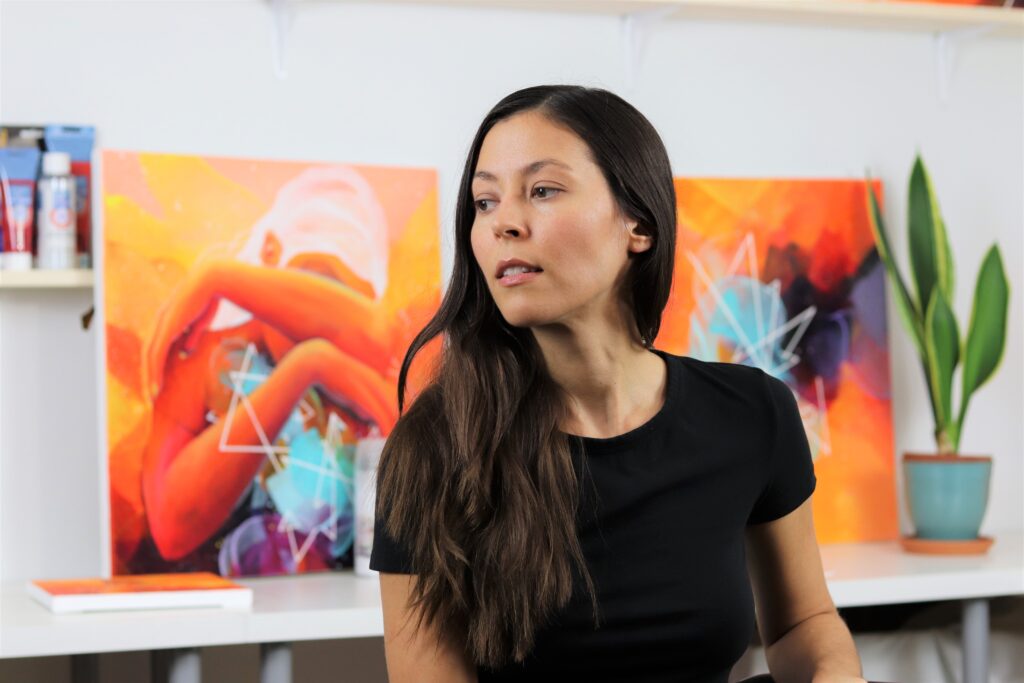 Hi, I'm Kelly! I'm the artist behind @messyeverafter and @kellyhelsinger. Born and raised in the Midwest, I spent most of my life in Minnesota before taking a brief adventure to Southern California from 2018-2020. Now, I live in Minneapolis with my husband and our dog, Murray.
Even though I'm an artist, I spent a good chunk of my life trying not to be one. I went to college for a variety of things (biochemistry, creative writing, psychology, and art), but never quite settled on one topic. Happily, the university I attended allowed me to graduate with a very unconventional but practical Bachelor's degree.
In my working life, I've held a variety of jobs before committing to art. I've been a dental lab ceramicist, optician, administrative assistant on a finance team, baker, barista, waitress, cashier, hotel housekeeper, and more. I'm no stranger to hard work, but found out early on that non-creative fields just won't satisfy the itch I'm trying to scratch, and just collecting a paycheck will never be enough to keep me interested.
I strive to spend my life in the pursuit of meaning and community. Being an artist is a perfect way to fulfill both goals, but I will not be limited to one title in my life.
About me as a human being:
I've always been a little bit of an intense weirdo that feels way too much. I can't watch horror movies, because the imagery sticks with me for days. I get lost daydreaming quite often. My head is full of ideas. I am passionate about art and all things creative, but I have a strangely analytical mind (data and spreadsheets give me a special kind of happiness). I can't help but be kind, because life is too short to be mean and angry. I overthink everything and have a hard time cutting myself slack. I love watching others succeed and grow, and the most fulfilling thing in my life at the moment is knowing I can be a source of inspiration and kindness to others.
About my art and inspiration:
I love working with saturated colors, movement, and organic flowing lines and details. I am inspired by emotions and energy because I experience so many of them in my internal landscape. Art is a way for me to get lost and roll around in the beautiful chaos around us and inside of me. Art is also how I leave those emotions behind.
Who is Mea?
On social channels, I used to go by Mea Kelly Marie, and I signed my work as 'MEA' (when I actually did take the time to sign the front of my work). Mea is the acronym of Messy Ever After and I adopted this as my signature between 2016 and early 2023 while in identity limbo. MEA and Messy Ever After will still exist, but I am shifting to using my true name, Kelly Helsinger, moving forward.
Any questions?
-Kelly
About The Business:
I operate primarily online. You can find my blog and online store 24/7. When I do in-person events, I will post details here. For yearly events such as Art-A-Whirl in Minneapolis, I usually claim a studio space at Holland Arts NE.
Unofficial/Temporary Location: Holland Arts West in NE Minneapolis
I do not have a full-time studio space at Holland Arts and will not be there unless a public event is scheduled or by private appointment.
Contact Info: Email Kelly@messyeverafter.com with any questions or comments.
Want to work with me?
I am open to commissions, commercial licensing, creative workshops, and more. Email at kelly@messyeverafter.com
Have any questions?
From blog post suggestions, commission requests, or even random questions, I'm happy to talk with you.