Dinner Recipe for Veggie Lovers
You don't HAVE to love veggies, but–there isn't meat on here so you should probably just embrace the deliciousness you're about to consume.
I love pizza. I love Asian food. Why not put it together? You may know miso just from miso soup, but it lends itself well to my Asian pizza sauce. It sounds really weird–but it's so tasty.
This recipe looks fairly involved, because you'll be making your own crust and sauce. I assure you though, it takes me no longer to make this pizza than it does to go grab a takeout pizza or get one delivered. Plus, it's always WAY better than your average pizza.
(Also, this post has way more pictures than usual…pizza just looks so pretty.)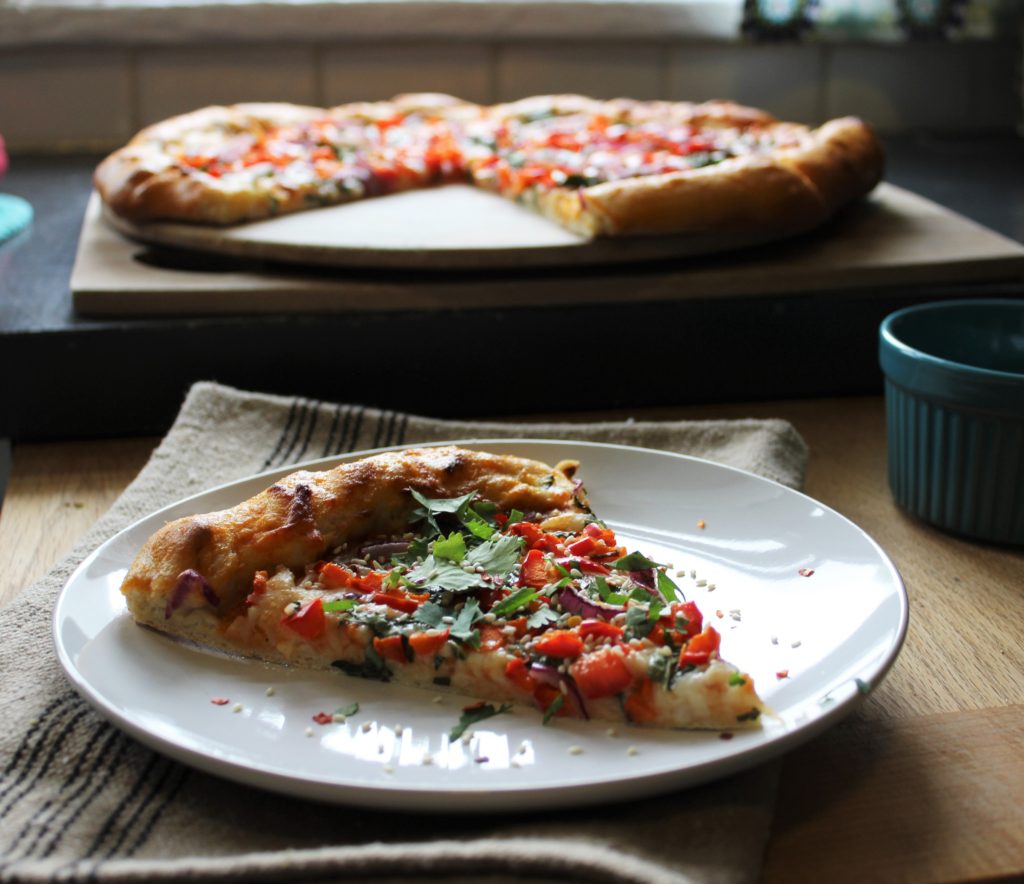 Asian Inspired Pizza with Miso Sriracha Sauce
Servings: 4, but let's be honest--I eat half the pizza when I make it so more like 2.
Calories: Let's just not worry about that. 

Crust:
2 cups flour
1 cup warm/hot water
1 packet quick rise yeast
1 tbsp sugar
drizzle of olive oil

Sauce:
1 tbsp miso (fermented soy)
1/2 tbsp soy sauce
1 tbsp Sriracha
1 1/2 tbsp brown sugar
2 cloves pressed garlic

Toppings to Bake:
1/2 cup of chopped bok choy leaves (you can also use spinach)
1/4 cup thinly sliced red onions
1/4 cup chopped red bell pepper
1 cup mozzarella cheese

Post Baked Toppings:
handful of chopped fresh cilantro
red pepper flakes
sesame seeds

Garlic Butter for Crust:
1 tbsp melted butter
1/2 tbsp Sriracha (Yes, more. Don't judge.)
1/4 tsp garlic salt

1. Prepare the crust by gently mixing sugar, warm water, and yeast together with a fork in a medium sized bowl. Let the yeast sit for a couple of minutes until the surface of the water looks a little foamy.


Mix in 2 cups of flour and form a ball of dough in the middle of the bowl. I still use a fork for this. Drizzle dough with olive oil, cover with a towel and set aside for 5 to 10 minutes or until you're finished with steps 2 and 3. 

2. Chop your veggies. 
3. Mix the sauce ingredients. If you don't have a garlic press, just finely chop the cloves. 

4. Roll out the crust. I like using a pizza stone, but a pan would be fine (about 14" wide). Before removing the dough from the bowl, give it a stir and see how sticky it is. 

If it's sticky, just add a bit more flour and knead the dough to incorporate. Repeat until the dough no longer sticks to your fingers or the fork.

Flour your pan or pizza stone and use a floured rolling pin to roll it out gently. You don't want the crust to be too thin. I extend the dough a little further than the stone edges and then fold/twist the dough over to make a thicker crust. Fork to prevent crust bubbles.

5. Spread the sauce over the crust. This sauce is packed with flavor, so a thin layer is perfect.

6. Add your toppings. Cheese first, then veggies. 

7. Bake at 425 degrees for 25 to 30 minutes. If you are using a pizza stone, don't preheat the oven--well I never preheat the oven with pizza regardless of stone or pan #livingontheedge, but I've read it's better to let the stone warm slowly. 

8. In the last couple of minutes before pulling the pizza out of the oven, mix melted butter, garlic salt, and Sriracha together. When you pull the pizza out, brush the outer crust using a basting brush. 

9. Slice, top with cilantro, sesame seeds, and pepper flakes (if you want more spice), and serve.

10. Try not to eat the whole thing. 


If you enjoyed this recipe, check out my Edible Masterpieces page for more!