A Perfect Healthy and Flavorful Dinner Recipe
Prepare your Belly!
One night, I had no idea what to cook for dinner. I was approaching 'hanger' and had absolutely no ambition to make anything. So, I turned off my brain, started throwing stuff together, and BAM! The most delicious recipe I have come up with in a long time happened.
The addition of pickled onions and peppers happened during round two of this recipe and it is pure perfection.
Moral of the story, hanger=a delightful creative opportunity. Sometimes…
Saucy Pulled Chicken Tacos with Pickled Onions and Peppers
Servings: 5-ish (About 20 tacos depending on the amount of meat put on each)
Calories: ..............just a few. 
Ingredients: 
- 1 medium white onion 
- 3 cloves garlic
- 1/4 cup brown sugar
- 1 15 oz can of fire roasted tomatoes
- 1/2 tsp cayenne pepper
- 1/2 tsp salt 
- 3 tbsp cumin
- 1 tbsp oregano
- 2 tbsp chili powder
- 1/2 tsp cinnamon
- 2 large chicken breasts (boiled and shredded)
- small white corn tortillas
- queso fresco
- fresh cilantro
- pickled veggies (Follow the link for recipe. Make six hours ahead.)
- Cholula (it really pulls it all together.)

1. Dice onion and garlic. Saute in a sauce pan on medium heat. Salt. Let onions soften a little. 
2. Add brown sugar and cook a few more minutes on medium heat, until sugar bubbles a bit. 
3. Add fire roasted tomatoes. Stir, then add all dry seasonings. With an immersion blender or food processor, blend sauce until smooth.  
4. Return to sauce pan. Cover, reduce to a simmer for 20 minutes, stir occasionally.
5. Add shredded chicken. 
6. Taste. Add more salt and spice if needed. Keep covered on low heat until time to serve. 

6. Coarsely chop cilantro and pickled veggies. Then crumble the queso fresco. 
7. Warm tortillas. I use a panini grill to toast each tortilla, but you can also use a pan over medium heat or toast them in the oven.
8. Construct your tacos! The order goes: tortilla, saucy meat, queso fresco, cilantro, pickled veggies and Cholula. 

Enjoy!
Visit the Edible Masterpieces page to see more recipes.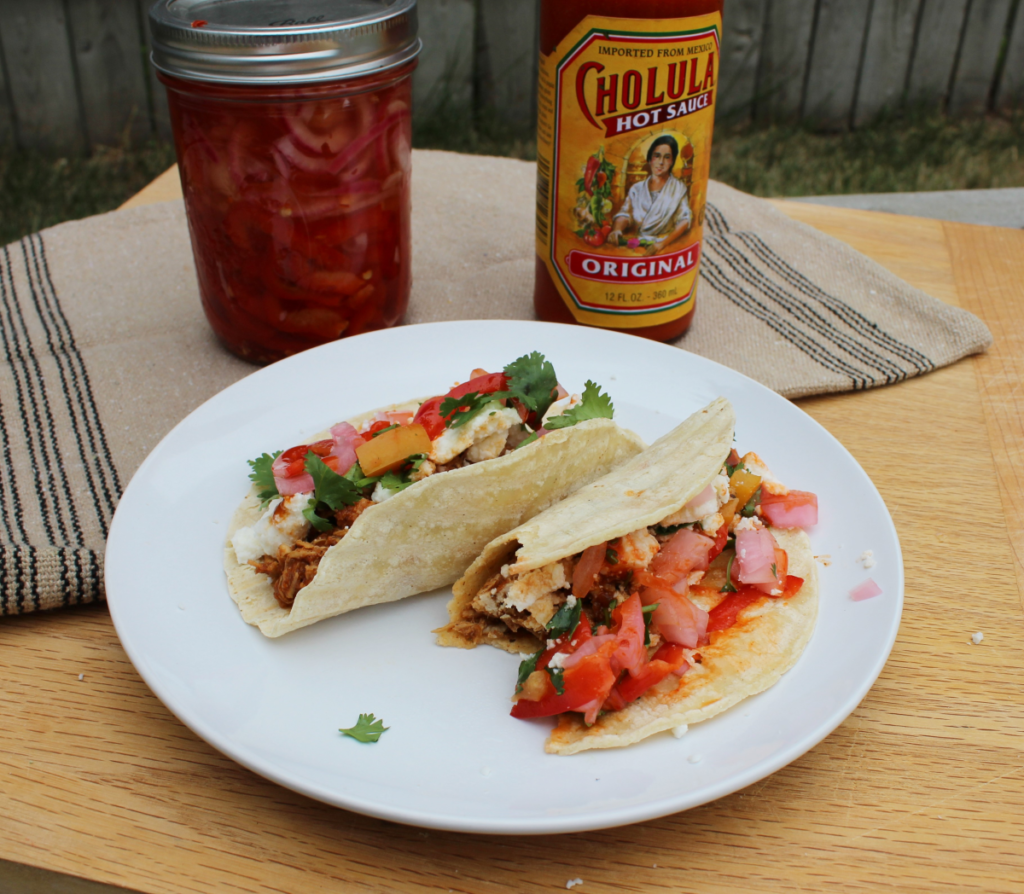 Oh, they are so good.