High Gloss Varnish vs. Gloss Medium and Varnish
*Disclosure: I earn commission on purchases made through the Blick Art Materials links when the purchase is made within 24 hours of clicking. 
Update: Liquitex Gloss Medium and Varnish is no longer available and I do believe it has been replaced with the Liquitex Gloss Medium product (or simply relabeled.) So, this blog post isn't really relevant anymore in terms of comparing the products, BUT I love the High Gloss Varnish and list all the reasons why below.
It's important to varnish your finished artwork for a variety of reasons. Varnish protects your art from dust and dirt, some varnishes protect your work from UV damage, and gloss varnishes can bring deep colors to life when applied.
Varnishing is one of my favorite steps in creating new work because it's that final moment of creation. It's done. It's finished. It's glorious!!
I use two main varnishes at the moment:
Liquitex Gloss Medium and Varnish.
Liquitex Gloss Medium and Varnish Pros and Cons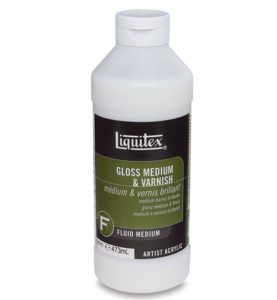 This was my primary varnish until I tried the High Gloss product. Now I never use this as a final varnish.
Update: Now that the product is simple "Gloss Medium" I'd suggest nobody use it as final varnish.
Overall, I think this product is okay, but the finished gloss isn't as glossy as I'd like. It gets too streaky, and if my finished canvases were touching each other, the surfaces stick together and bad things happen. Moments of panic have occurred when setting up for shows because of this…
Pros:
It can also be used as an extender, glazing medium, or fixative. (Which is what I still use it for today.)
It can be diluted with water.
You can apply it with a foam or synthetic brush.
Cons:
This varnish streaks very easily if you add too much varnish at a time. Apply very thin layers.
Consistency is much thicker than the High Gloss Varnish so it needs to be worked into the canvas more if not diluted with water.
I found I needed to add 3 to 5 coats, to get the finish I wanted.
If you overwork the varnish, it can dry with a milky/cloudy appearance.
It's a lower gloss finish.
Finished surface feels tacky and sticks to other canvases when touching.
Liquitex High Gloss Varnish Pros and Cons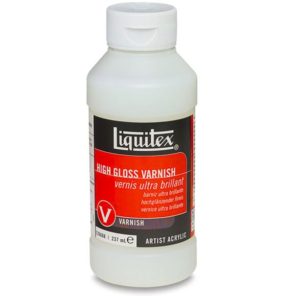 I love this product. It has a much thinner consistency than the Gloss Medium and Varnish so it's easier to apply and it dries to a much glossier finish.
Pros:
It's truly high gloss.
The thinner consistency makes it easier to apply.
Streaks less than the Gloss Medium and Varnish, and not at all if applied well.
Only needs 2 coats for an even finish. (You can apply more if you prefer.)
Cons:
If you apply too thick or too thin for the first coat, it can have noticeable streaks, so you have to find the right amount to use and keep checking your strokes in the light to make sure it's applied evenly as you go.
This varnish can still dry with a cloudy appearance if it is overworked when applying, but with the thinner consistency, it's harder to overwork.
It dries pretty quickly, so make sure to rework the areas you need to right away to avoid overworking.
You have to wait 3 hours between coats.
Bubbles often form while applying.
Tips and Tricks for High Gloss Varnish
Always apply with a foam brush! This varnish can get streaky if applied with the wrong brush.
Load the brush with varnish and apply with light pressure. Do one or two slow and even passes for each strip of varnish applied.
Always apply at least two thin coats and let each layer dry for at least 3 hours before adding the next.
Again, do not overwork the varnish! If you notice a streak and try to rework the area, but find the brush encounters sticky resistance, leave it to dry and fix it on the next coat.
Do not thin with water.
If bubbles form you can slowly pass over the area with your brush again or blow on them to pop them.
***
If you are in the market for a new gloss varnish, I definitely recommend Liquitex High Gloss Varnish. I absolutely love the even coverage and how it brings depth to my deeper colors.
I recommend skipping the Gloss Medium and Varnish if you don't have other uses for it. Or go ahead and test them both and see what you think!
Thanks so much for checking out this review. If you have any questions or product opinions, let me know below!
-Kelly
Product Links:
More Product Reviews: