Recording Art Videos with a 
Logitech HD Pro Webcam C920
* If you follow the affiliate product links below and make a qualified purchase through Amazon and Blick Art Materials within 24 hours of clicking, I earn a commission at no additional cost to you. (Yay!)
Are you looking into recording your artistic process for Youtube or Instagram? Have you been propping your smartphone up on random books and varnish containers to try and get the right angles?
I have a solution for you.
In 2017, I started recording my videos with an old Nikon point and shoot camera and a tripod. The tripod legs always got in the way and the video quality was poor.  Then I tried my Canon Rebel T3i, which created high quality video, but I was only able to record 11 minutes at a time due to storage limits. Then I switched to using my Samsung Galaxy phone, but ran out of storage too quickly and couldn't listen to music at the same time.
I didn't want to buy a really expensive camera, because I really couldn't justify the expense on something like this, so I did some more research.
I finally found my favorite Recording solution:
A Logitech HD Pro Webcam C920 with a Scissor Arm Desk Mount Stand 
This is my current setup: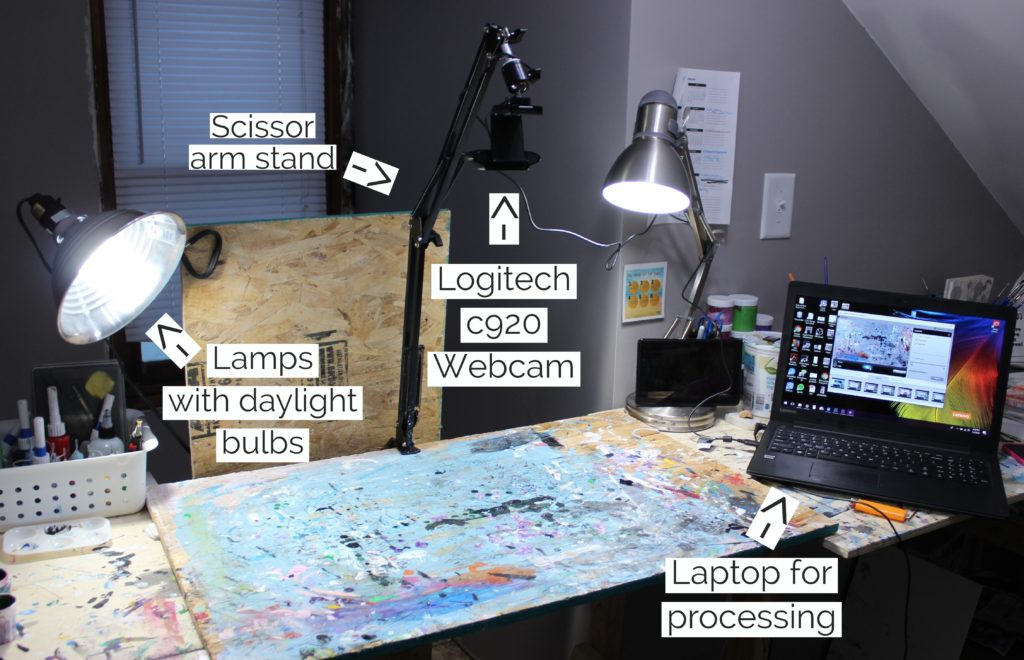 I have recently painted my desktop white, but here is a current example of what my videos look like after recording with the Logitech webcam and editing with Adobe Premier Pro:
In any situation where you are recording or photographing art:
Make sure you have a well lit work area. I always use clamp lights with daylight bulbs in my studio. I also have daylight bulbs in all of my light fixtures.
A great camera with crappy lighting won't produce a great video unless you really know what you're doing.
Logitech c920 Webcam Pros
It's fairly cheap (around $50)
It records 1080p HD video
Video quality is perfect for Youtube as well as Instagram
I can record straight to my laptop and easily import into Premier Pro
Logitech software is easy to use and you can manipulate the camera settings easily.
It's really easy to adjust the angle of the webcam when using the scissor arm mount.
Cons
I haven't played with the audio, so I can't speak to its quality. Since I record time lapse videos most often, I just delete the audio track.
I experienced camera flicker once (black bars moving through the video), but this was easily remedied by adjusting the camera settings through the Logitech software.
You'll need to have your computer with a USB port setup near your work to record.
I usually have to adjust the settings in the software every time I open it.
Even with the cons, I think the awesome price makes up for everything. I completely love using this webcam for recording. It's an inexpensive way to get into recording and building your artistic brand on Facebook, YouTube, Instagram, and more.
Videos are a great way to get exposure for your art, so I encourage you to start recording in any way you can. It has made me a very happy artist.
***
If you have any questions or comments, please let me know. Check out my FAQs page for more info on the products I use!
-Kelly
P.S. If you enjoy my blogs and gain any inspiration from the content I put out there, please consider becoming a Patron of Messy Ever After on Patreon. Pledging just $1 a month enables me to keep doing what I do. Plus, you get extra little perks like phone wallpapers and the ability to pick my brain whenever you want through the artist Q&A perk.
Recommended Products:
Further Reading: