*Links contained in this post are affiliate links for Amazon and/or Blick Art Materials and I will earn a commission if you make a purchase at no additional cost to you. These commissions help fund more content like this, so thank you!

Have you tried the Fineline Precision Applicator?
This paint pen is the product I recommend most, and I always get questions about it. I've written about it too many times to count, and I've seen so many of you give it a try (yay!!), but you've run into an issue. I get this comment a lot:
"Why are your tips shorter than mine?"
I don't know why the bottles that I got had shorter tips. Maybe it was an early run and the company decided to switch to the longer tips later. But I hear you, the shorter tips seem easier to use.
I explained it in this Instagram post a few months ago:
I would still encourage you to use the 1″ tips if you have them, but I don't know why I hadn't researched this much earlier. Why not try to find replacement 1/2″ tips instead of cutting tips myself or suffering through the longer 1″ tips? Silly me.
Finally, I did some hunting on Amazon a few weeks ago, and I added a couple of items to my cart, but I never got around to actually clicking buy until yet another "Why is your tip shorter than mine?" comment. This morning, I eagerly waited for the mail to arrive so I could test out my new purchase. Seconds after confirming the tips fit my bottles perfectly, I started this post. You all must know about these!
Products I use:
First of all, you'll need a Fineline Applicator. The tips used are "Luer Lock" tips that can be removed, cleaned, and replaced. I usually get the 20 gauge, but the gauge doesn't matter anymore now that I found replacement tips.
Fineline Applicators 1 oz 20 Gauge (3 Per Pack) (Amazon)
Fineline Applicators 1 oz 18 Gauge (3 Per Pack) (Amazon)
I found two products that looked like they would work, but I couldn't be sure until I had them in my hands. The applicator pens don't say "Luer Lock Cap", so I was staring at my applicator tips and comparing them to different Luer lock needles and giving a big ole shrug when I clicked buy. "Maybe it will work! Maybe I'm about to waste $12."
This is the product I bought, and the tips 100% work on these bottles:
Brostown 120Pcs 1/2″ Industrial Liquid Dispenser Needle -Luer Lock (Amazon)
This product contains 10 different tip sizes from 14 gauge to 30 gauge, with 12 pieces per size. All contained in a cute little plastic case! Heck yes!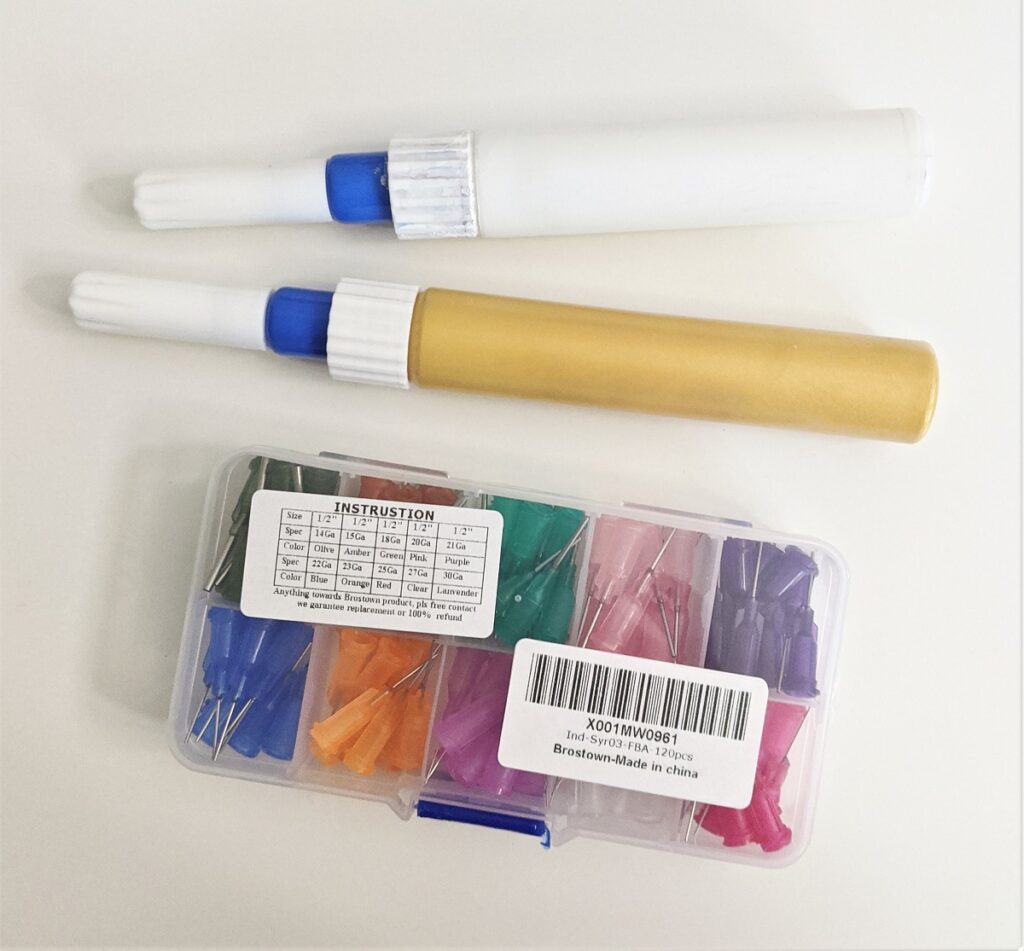 And I didn't try these tips, but they were the other option on my list of potential products. I went with the other pack because of quantity:
0.5 inch Unsterilized Synthetical Dispensing Needle with Blunt Tip Luer Lock – 10 Different Sizes,50 PCS (Amazon)
Should you buy a pack of replacement tips?
Again, I still think the 1″ tips work great, but I understand the desire to experiment with the shorter ones. If I were given a choice, I'd pick the 1/2″ tips. But, what else should you consider before buying separate tips?
Replacement Tip Pros
You can try different sizes and experiment with different mediums. I tried the 30 gauge tip with India ink and it has potential. (But read this post for a better ink option.)
If your tips clog, dry, and become unusable, you can just swap them out for a new one!
You can have the shorter tips without having to cut them.
The price isn't crazy. You can spend $9-$13 on a pack of new tips that will last for a long time.
Replacement Tip Cons
The wire cap won't fit into all of the different gauges. You may need to remove tips for storage or replace them with the original gauged tip. You can also find different gauged wires and make your own improvised cap. (Moral of the story, keep a wire in the tip or clean it out after each use. Don't let paint sit in the tips.)
Maybe the price? It's under $20, but it's still money that could be spent on something else.
***
There you have it! A new solution to a problem I should have researched long ago! Let me know if you give these replacement tips a try! I'm excited to play with the rest of the sizes.
If you enjoy learning about the supplies I use in the studio and want to know more, let me know through Instagram or Email. Now go get messy and share your creation on Instagram using #messyeverafter!
-Kelly
Further Reading: