Winsor & Newton Water Colour After Effects Gift Collection Review
Recently, I have been practicing watercolors quite a bit. Watercolors are almost magical in their possibilities. They are a challenge to master, but are so fun to play with! I was introduced to the Winsor & Newton Water Colour After Effects Gift Collection a couple of months ago, and it has opened up the creative possibilities even more! 
I am obsessed with creating intricate fine lines and the using shimmery metallic supplies in my art, and this collection is perfect! If you work with watercolors and want to give your pieces an extra bit of sparkle power, this is the collection for you. It would also be a perfect gift for the art lovers in your life!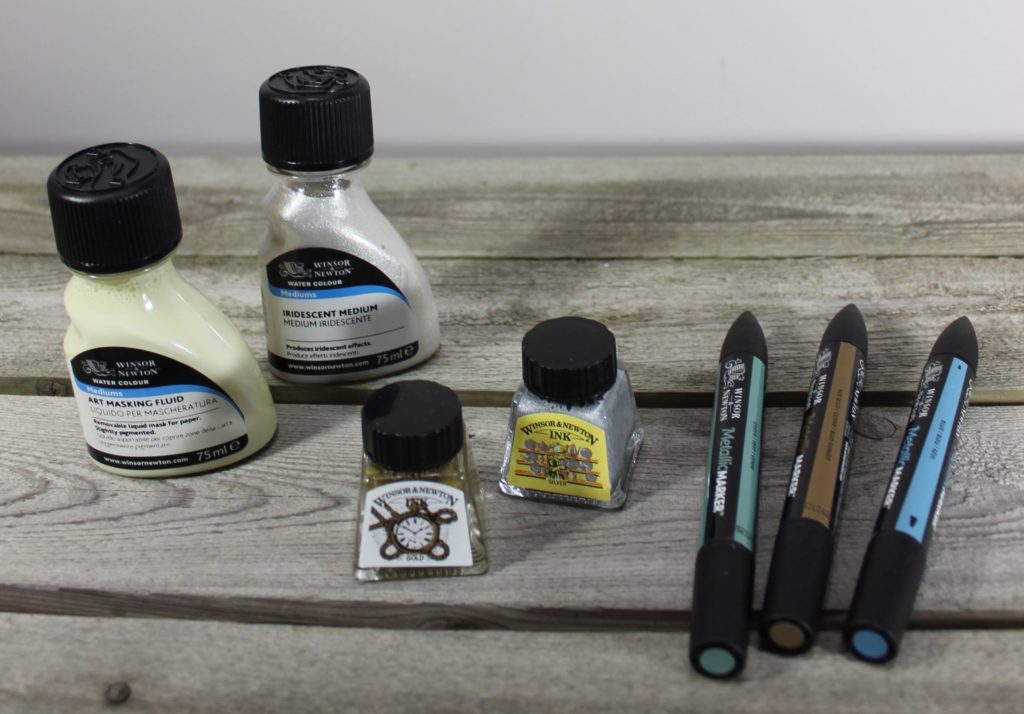 What's Included:
You can buy all of these items separately through the links above, or purchase the complete gift collection from Amazon!
*Disclosure: I am an affiliate of Amazon and Dick Blick, so if you make a qualified purchase within 24 hours of clicking the links in this post, I earn a commission. (Yay!) This is of course at no additional cost to you, and it in no way alters my opinions of the products I recommend.
Metallic Markers

The markers have tips on both ends to offer both medium and fine lines. They are super smooth and opaque when layered over dry watercolors and the pigment based ink ensures long lasting, lightfast creations. (As opposed to dye based inks that fade more easily when exposed to UV light.)
I loved the application of the markers, but I must admit that I wasn't as excited about the metallic finish. It has much more of a subtle glow than a dramatic shimmer. If you are looking for something with more shine, you will love the next products.
Gold and Silver Drawing Inks

Formulated with soluble dyes in a superior shellac solution, these inks can be applied with a brush, calligraphy pen, or even an air brush. I use a brush and my Speedball Calligraphy pen to apply the ink and I was so pleased with the end results. 
Always make sure to stir the ink before using to get the best metallic finish. The application is smooth, and the ink dries quickly without losing any shimmer.
Iridescent Medium
This iridescent medium gives a perfectly pearlescent finish to watercolors.  On this piece, you can see the subtle shimmer of the medium along side the silver drawing ink.
You can mix the medium into your wet colors, or apply as a wash over the dry colors. You can also use it with the metallic markers to get the glittery finish I was originally hoping for! The iridescent medium, like the rest of the products in this collection has a really smooth finish.
Art Masking Fluid
Art masking fluid is a rubber latex liquid that is used to protect areas of your paper from color while you paint. I was least certain about how I would like this product, but I just loved the magic it worked by keeping areas of my paper completely free of color.
I applied the fluid with a brush, but I have also seen people use a Fineline Precision Applicator to get a more precise application. You can see from the video that it peels off easily and leaves no residue behind. If you were one of those kids that put Elmer's glue on your hands in school just to peel it off, you're going to love this product. (*cough* weirdo *cough*)
Overall
I love the Winsor & Newton Water Colour After Effects Gift Collection. I've always been the type of artist that likes to buy kits of supplies to test out before making a decision on the products I like, so this was perfect!
As the name states, this really is a great gift for artists! Which brings me to my next point!
Giveaway:
With the help of Winsor & Newton, until 4/17/2018, I am hosting an Instagram giveaway and you can enter for a chance to win this gift collection to try out for yourself! I want you to have as much fun as I've been having!
Update: The giveaway has ended, but make sure to follow @messyeverafter on Instagram to stay updated on future giveaways! 
***
Thanks for checking out this review! Let me know if you have any questions in the comments below.
Stay messy, my friends!
-Kelly
P.S. If you enjoy my blogs and gain any inspiration from the content I put out there, please consider becoming a Patron of Messy Ever After on Patreon. Pledging just $1 a month enables me to keep doing what I do. Plus, you get extra little perks like phone wallpapers and the ability to pick my brain whenever you want through the artist Q&A perk.
Further Reading: