Growing Your Art Account Following with Hashtags
(2022 Update: Before you spend time researching hashtags to grow your following, make sure you try posting Instagram Reels for more effective and organic exposure first.)
If you are new to Instagram, or have been struggling with getting new followers, your hashtags might be the issue. When I first started posting art, I would pull tags out of my head. I'd look at my art and brainstorm all the ways to describe the piece right when I was posting.
#sketch #doodle #art #artist #abstract
My tags were generic and I only used a handful of them, because I didn't know how important they were and I frankly didn't feel like wasting too much time on the posting process. When I search for those tags now, I see they have millions of posts behind them. It's no wonder why I didn't see progress on my account for months. I was doing it all wrong.
Researching new hashtags was a huge contributing factor to my quick growth in 2017. I don't want to repeat too much of the information that's already out there so I'll just say: Hashtags are really important. Yes, there is a right way to use them. Don't worry, I will show you how.
Hashtag Basics and Suggestions:
Hashtags change and grow. Some get banned, some are popular one day and obsolete the next, which is why it's important to continually adjust and review your tags to get the maximum benefit. I've put together a list of helpful tips and info:
You can use 30 tags per post.

I suggest using them all, but don't go over. If you have over 30, your image or video will post without the caption and tags. Currently, my list is around 26 tags so I can add some here and there depending on the post content.
If you have heard it's spammy to use all the tags—ignore that. If your caption is genuine, your content is attractive, and you format the caption well—it won't look spammy.

Make sure you have a good balance of small and large tags.

 If you are using all 30 tags, but each tag is generic and overused, you're not going to benefit much. If your account has a small following, focus on small tags.

Don't use more than 5 large tags, if any (1 million + posts)
Use 10 to 20 smaller tags (1,000 to 50,000 uses)
Use 5 to 10 medium tags (50,000 to 500k uses)
Considering creating 1 to 2 unique, branded tags (under 1,000 uses)

Pay attention to the top posts in your chosen hashtags.

The goal is to get into the top posts of some of the tags you use. The more engagement your post has, the more likely it will move up in rank. And if you're in the top posts, it will drive even more people to engage with the post and follow you.

Post your tags in your caption and not as a comment.

I've read conflicting articles on this. Some say you shouldn't post tags in the caption, because it looks tacky and spammy.

Solution: Add 5 or more symbols and lines between your caption and tags so the tags show up further down.

Some say posting tags in a comment will trick the Instagram algorithm into thinking your post has more engagement and then it will boost the post. (FYI: Nobody but Instagram knows definitively how the algorithm works. The rest of us are just making educated guesses.)

Sit down and do some research. I'll show you how I do it! 

It's tedious, but I will show you how I get a healthy list of tags that I just copy and paste into posts for a couple of months until I have to sit down and research new ones.
The Importance of Researching your Tags
Again, hashtags are important–but more specifically hashtags that have a narrow focus and fit your brand are important.
As part of defining your brand, you need to know where you fit into the art world. What kind of art do you create and what materials do you use? What kind of feelings do your pieces evoke? Knowing the answers to all of these questions will help you better market yourself, choose the right tags, and find your audience.
Also, a lot of share accounts choose different works to share from specific tags. Some have their own tags, and some pull from tags already in use. I wish there was a list of share accounts out there, but it's an ever changing network. You are more likely to find these accounts when you are researching tags.
The lazy method For Choosing Hashtags
This won't be as effective, but it's a start if you don't have the time to research. Find an artist similar to your style that has a larger following than you (but not too large). Look at their posts with high engagement (most likes and comments) and copy their tags. Voila. Your work is done.
The Tedious but Totally worth it method for choosing hashtags
Get on your computer. Open up a spreadsheet or use this worksheet:
Crack your knuckles and head to Instagram. Search for a tag relevant to your art. For this example, I'm going to use #acrylicpaint. Below are the top nine posts for this tag.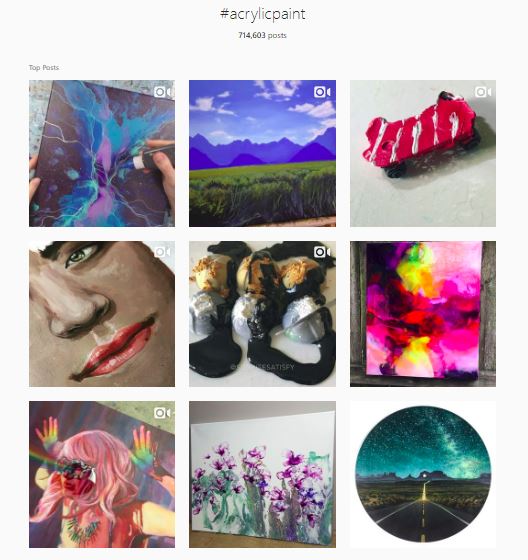 I happen to have two pieces in the mix at the moment, but I'm going to look at the middle row, right side for inspiration. Okay, so looking at this post, it has high engagement and actually happens to be a @brittleeart piece from share account (I'll tell you more about what to do with this later.). Now, what I do is examine all of the tags and start clicking on each one to see if it would fit my style.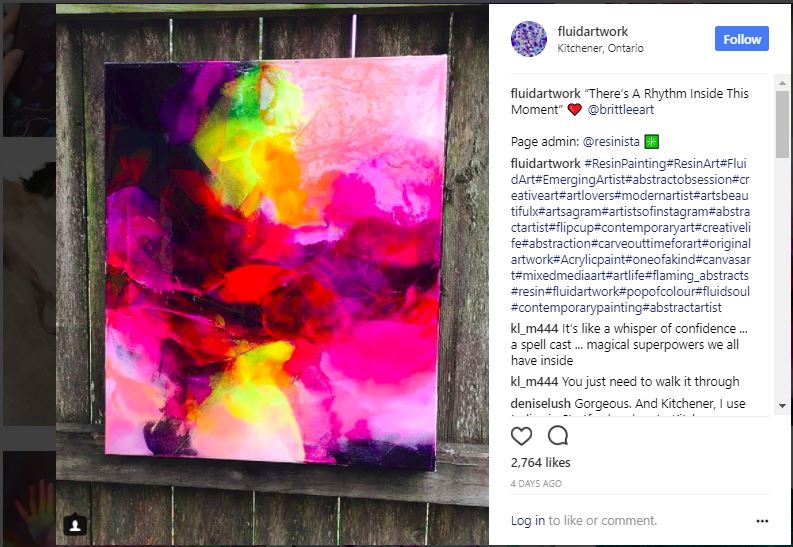 If I find a 'good' tag, then I explore its top nine. Select another post, check out those tags, find another good one, explore the top nine. Repeat.
While I am clicking back and forth, I have a spreadsheet open to start recording different tags and information. Below is a screenshot my research. On the left are tags that I have already been using. Blue means I've made it to the top nine, red means the tags are too big and my work is nowhere to be seen. I'm not going to use the red tags anymore.
The right side are the new tags I researched today. A lot of my tags are above 50k uses, but I am having success with the larger ones so I keep using them. As your following grows, you can find success with the larger ones as well. For now, start on the smaller end.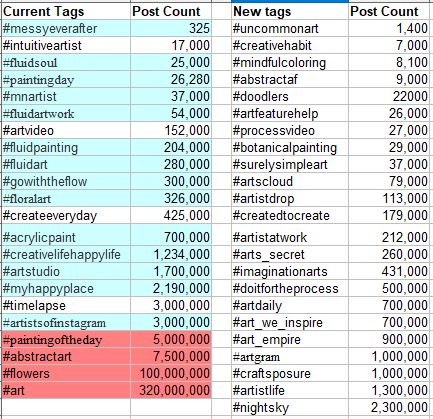 What makes a hashtag 'good'?
Now, you can see from my list that I don't use a lot of one word tags or simple tags. I choose much more specific tags. Don't use #art, use #uncommonart. Don't use #abstract, use #abstractaf . I have to admit that the more I research tags, the more excited I get when I find a really good one. So what do I look for in a tag?
The tag has quality content. The top posts are attractive and have genuine engagement.
The tag is related to your art and your brand in some way. Can you see your work fitting in here?
The tag is currently in use. Look at the recent posts under the tag to see when it was last used.
The uses are between 1k to 50k.
The tags are more specific and targeted to a smaller audience.

You'd think you would want to display to the largest audience you can to get exposure at first, but you want to do the exact opposite. Find a small dedicated audience. Their engagement is going to mean so much more for you, your account, and your business.
Basic Steps for Hashtag Research
Start with a generic tag related to your work, or a tag you already have success with.
Examine the post with the highest engagement in the top posts that is most similar to your art and brand.
Review the tags on that post, copy the tags that are smaller and targeted.
If any of the posts appear to be share accounts, look to see if they have a specific tag they use. Add that to the list if you want to increase your potential for shares. (ex. #artwhisper #fluidartwork)
Explore niche tags and/or unrelated tags. Some might be specific art tags, and some might be related to creativity. Either way, they tap into a different audience, but stay consistent with your brand. (ex. #creativelifehappy #createdtocreate #creativehabit)
Record your tags until you have a list of 25 or more.
I honestly spend an hour or two researching tags, but once I have a list I format the basic layout and copy it into Google Keep. I have Notes for different post content–videos, new products in my store, and my standard tag list.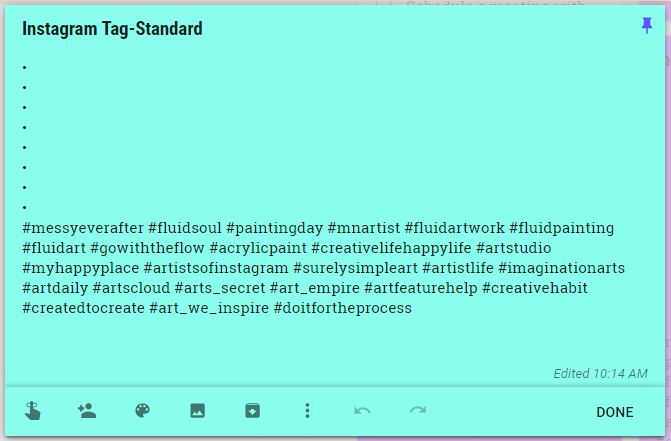 Now when I have new content to post, I just copy this to my clipboard and head to Instagram. I will review my tags in another 2 or 3 months and see which ones aren't working for me and I'll switch things around. Again, I know this process is a little tedious, but it is so beneficial!
As of late 2021, I don't use hashtags anymore aside from my branded #messyeverafter. Maybe I'll try it again in the future, but Reels have been the best and most efficient way to get exposed to new followers in my recent experience. The algorithm is constantly changing, so if something isn't working for you, explore other options.
Please leave questions and comments below while commenting is open or reach out to me directly through Instagram or email. I'd love to hear from you! Make sure to sign up for my email list below to never miss a blog post.
-Kelly
P.S. You probably know by now that I am here to help artists with these posts. If you need help with your online branding, Instagram account, or just want a creative accountability coach, then check out my consulting services. You can easily add a session to my online calendar now.