This is what I do to get more exposure on social media and you should do it too.
I've written a lot of blog posts about how to grow your following as an artist online. How to pick the right hashtags, how to brand your Instagram, how often to post, and more, but there is one huge thing that helps me continually grow my following on social media and I want you to do this too: Make videos of your art process.
I have shared my recording setup in a couple of other blog posts, so I apologize if you find some of this info repetitive, but you'll still get something out of the first bit of this post. Especially if you still haven't gotten around to actually making videos.
Videos, videos, videos!
Process videos, time lapse videos, close up videos, slow motion videos, real time videos. Any kind of video you can think of. I'm going to give you a clear chunk of proof as to why videos will be beneficial for your social media accounts.
Take a look at the insights I pulled from my Instagram account for the last 30 days below. On the left is a screenshot of the number of accounts I reached through still photo posts, and on the right is the reach of my video posts.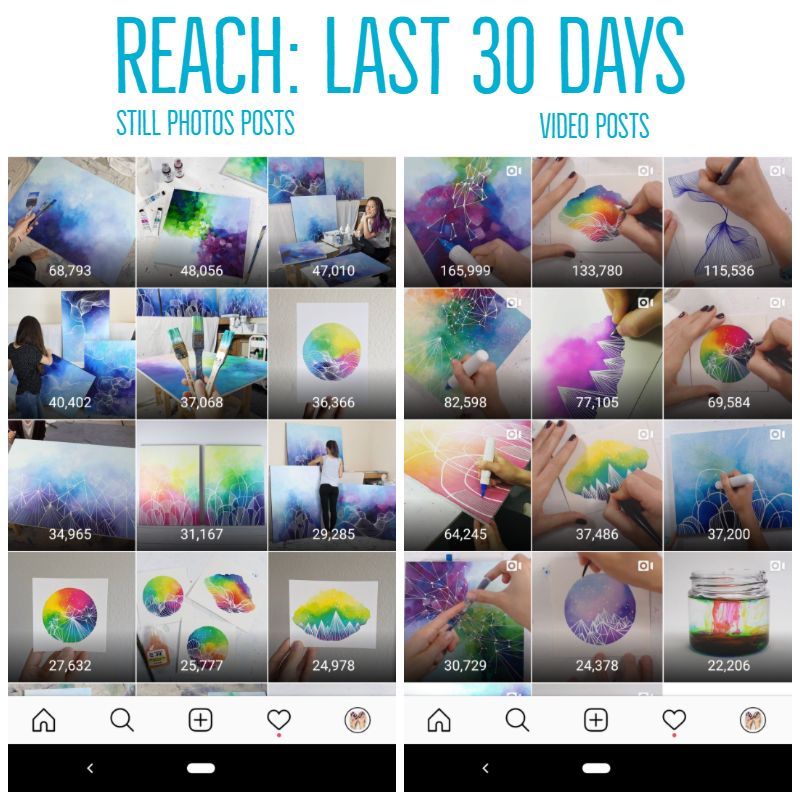 All you have to do is look at the first thumbnail on each screenshot.
Best Photo Post: 68,793 accounts reached
Best Video Post: 165,999 accounts reached
My best video post clearly blows my best photo post out of the water. Same with the next 6 video posts. I could use the same hashtags, post at the same time of the day, use similar captions, or replicate any other variable, but videos get more attention than photos on average.
This has been consistent for me since September of 2017 when my following first started to grow and I've continued to create videos since then to maintain the momentum. Don't delay. Start making videos. I'll show you how I do it.
How to Create Videos of Your Art for Social Media
*Any product links provided in this post are affiliate links and I will earn a commission if you make a purchase. These commissions help fund the creation of more content like this at no additional cost to you. So thank you for supporting this site! Buy all the things 😉 *
You don't need any crazy expensive equipment to get started with making videos. Most of us have high quality cameras in our pockets that we can start recording with. When I first started making videos, I used my Samsung Galaxy S6 phone, a cheap smartphone tripod, and a pre-installed video app to create time lapse videos. Regardless of the equipment you use, I have some tips for you:
Basic tips for creating videos:
Use good lighting: In photos and videos, you want to make sure you don't have dimly lit or highly shadowed products. Keep things bright and clean with natural sunlight or daylight bulbs.
Control the chaos around your art: Keep your work space clean and make sure the colors of the surface you're working on don't clash with your art. I stick with clean(ish) white surfaces. Reduce the clutter around your art so the viewer's eyes don't get distracted.
Show an interesting part of your process, and capture dynamic moments: People who aren't artists will not know what your pencil sketch of a bird will look like once you add your distinct watercolor style unless you show them. Capture a piece from start to finish, or capture satisfying moments of adding details during the last 25% of a piece. Show a transformation and tell a story through your videos.
Don't waste your time with video intros: You only have a couple of seconds to grab your viewer's attention. I suggest jumping right into your art content.
Consider working small to create more content: If you only work on large pieces, creating 7 videos a week may be a bit difficult. I suggest working on "content filler" pieces of art that are smaller and that you can finish quickly.
My Video Setup:
When I was at my most ambitious state, I was posting a time lapse video of my work once a day. If you want to aggressively try to grow your following, I would suggest you do the same (and don't forget to research a good list of hashtags). At a minimum that means I needed 7 videos a week, so I basically started to record everything I did in the studio. This led me to "upgrade" my recording equipment to make it as easy as possible for me to hit record. (Smartphones run out of storage space quickly when you record that much!)
Right now, I record all of my videos using a webcam. I record right onto my laptop and I edit them with Adobe Premiere Pro. Easy peasy.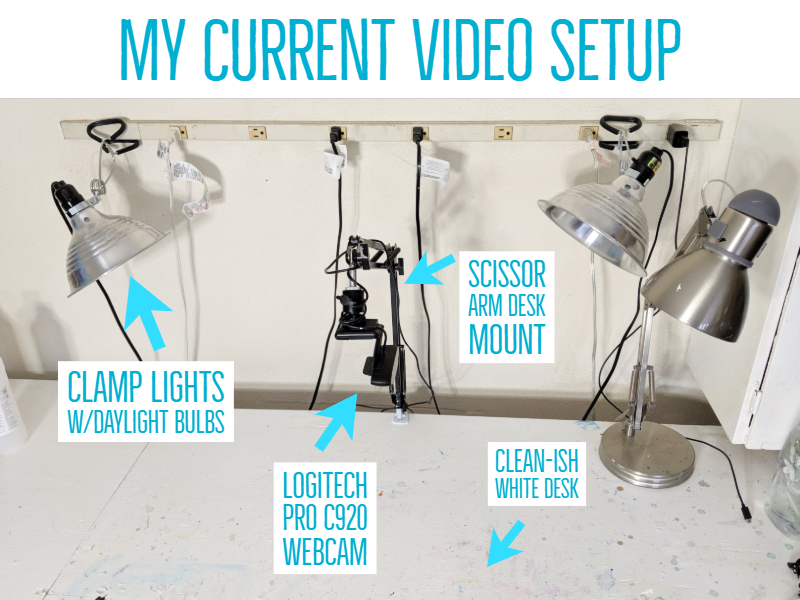 If you want to stick with using your phone to start, you can still use the lights, scissor arm, and then get your hands on that cellphone tripod and screw the phone holder onto your clamp arm.
Are you ready to get started?
I can't stress enough how beneficial video content can be for your social exposure. Using videos on Reddit, Facebook, Instagram, TikTok, and whatever other platform you're on can easily grab more attention than a still photo. Making videos may seem intimidating at first, but we have so much technology around us that we can use.
If you have a smartphone, webcam, iPad, or even a camcorder, you can get started. Use what you have and hit record.
***
Lastly, I want to take a moment to touch on the fear that a lot of artists have about sharing their art process. I understand that you may not want to show people how you make your art for fear that it's giving them a blueprint of how to copy what you do. A lot of us fear having our work copied, but take a moment to read this post if that fear is holding you back from making videos. Don't let fear get in your way.
Please leave questions and comments below while commenting is open or reach out to me directly through Instagram or email. I'd love to hear from you! Make sure to sign up for my email list below to never miss a blog post. New posts are published every week (kind of). And if you'd like to see more content like this in the future, consider becoming a Patron of mine!
-Kelly
P.S. You probably know by now that I am here to help artists with these posts. If you need help with your online branding, Instagram account, or just want a creative accountability coach, then check out my consulting services. You can easily add a session to my online calendar now.
Further Reading: