November 2019
*Links contained in this post are affiliate links for Amazon or Blick Art Materials and I will earn a commission if you make a purchase at no additional cost to you. These commissions help fund more content like this, so thank you!
It's been a while since I've done a favorite supplies post! With Black Friday coming up this is the perfect time to add new materials to your holiday wish list and take advantage of upcoming sales. (I know Blick runs a lot of promotions!)
If you follow me on Instagram, you will see a lot of process videos pop up on my profile. Lately, I have been experimenting with acrylic inks, metallic mica watercolor pans, and a new dip pen on top of my usual watercolor inks (previous supplies post). Take a look and learn about the products I've been obsessed with lately!
Brushes and Pens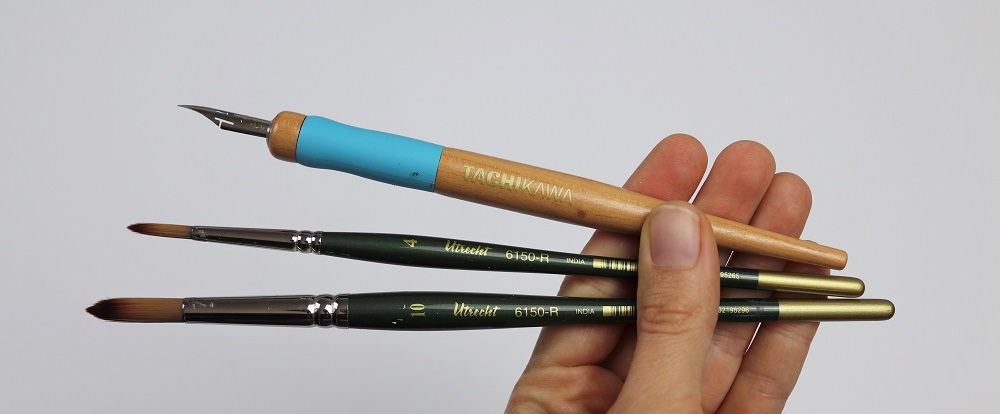 Dip Pen and Nibs
I am always excited to try new pens. I had been using this Speedball Sketch Pen set (Amazon) for a long time, but I wanted to try something new just for kicks. I found this blue grip Tachikawa pen on Amazon and love it! When you get new pens with metal nibs, it's important to clean the protective coating off so your material sticks to the nib. I use a lighter to heat the nib then a paper towel to clean the surface. I pass the nib through the flame a few times. If your inks still don't stick to the nib, repeat the heating and wiping process.
I use dip pens like this with a variety of media. If the substance can flow, you can probably try to apply it with the pen.
Tachikawa Comic Pen and Nibs (Amazon)
Watercolor Brushes
If you have ever tried cheap packs of watercolor brushes, you know the pain of using inferior supplies. With acrylic brushes, you can get away with using really cheap synthetic bristles, but watercolor brushes are a little more nuanced. I haven't gone too crazy with expensive brushes, but I did make a slight upgrade from a $7 pack of cheap AF watercolor brushes to these Utrecht brushes. They have synthetic bristles, and they hold their shape and quite a bit of water while working. They also don't shed on your paper (yay!).
I use these brushes when applying traditional watercolors, watercolor inks, acrylic ink, and any other watery material when working on paper.
Metallic Embellishments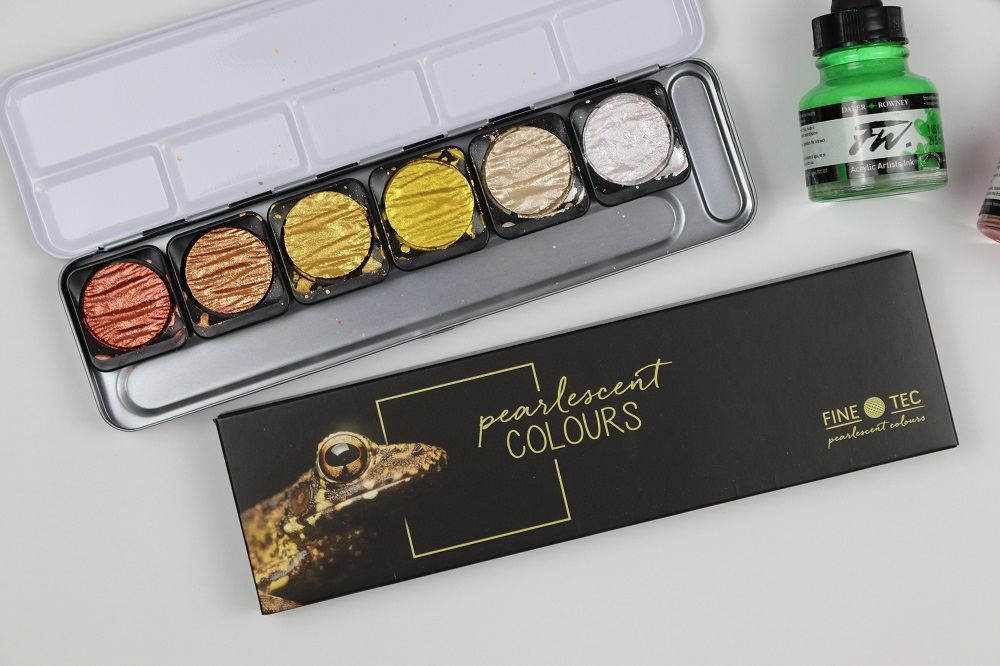 Finetec Artist Mica Watercolors
I cannot fully express how much I LOVE this product. I have worked with a lot of metallic art substances in my last 15 years of art making, and Finetec is my favorite metallic medium. FAVORITE. Why? Many reasons.
It looks amazing when applied as it catches the light beautifully.
It is super easy to work with. The pans are solid and you just need to wet the surface with water and a brush and rub until it turns viscous. Then you can apply it with a brush or dip pen (I deposit the mixture on my nib with the brush I used for stirring).
Since you can control the mixture with a pen or brush you don't have to worry about metallic paint pens burping all over your paper.
It doesn't smell like some oil-based pens or liquid inks can.
Since it's water-based, you could mix this into your watercolors for a tinted shimmer in your work.
When dry, it doesn't smear or transfer any mica onto my hand.
I use this product on my paper surfaces only. I haven't tried it on canvas or on top of acrylics.
Acrylic Ink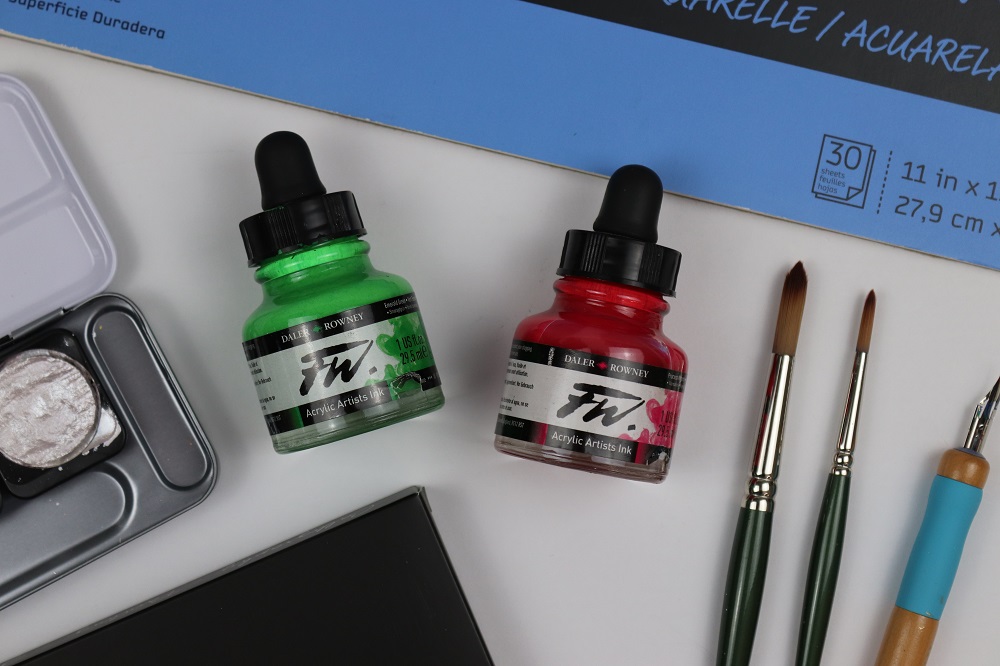 I bought this ink years ago and didn't like it at first. Mainly because I didn't really know what I was doing or how I wanted to use it. I put them in a drawer and forgot about them until a few weeks ago. Now I love this ink and want to go buy all the colors.
I love working with inks that are incredibly opaque. When I do fine lining, I don't want my background colors to show through my line work. This acrylic ink has the opacity I prefer. You can apply it with a dip pen or a brush, but you can also use an airbrush or technical pen if you have it, making this ink versatile.
In the first video above, you can see this ink in action when I apply the blue lines. The white lines still use my favorite white ink, Dr. Ph Martin's Pen White Ink (Amazon)
Paper
I use all of these products on paper surfaces. I like to keep things simple so I am still using the same Canson Watercolor paper as my base for most work. I cut my paper down to smaller sizes to avoid buckling and warping the paper, and I don't overwork the surface so this budget option works great for me.
***
And that's it! I hope you feel inspired to try some new products!
If you enjoy learning about the supplies I use in the studio and want to know more, let me know through Instagram or Email. Now go get messy and share your creation on Instagram using #messyeverafter!
-Kelly