I have loved gold fine lining for years. My earliest frustrations of trying to find a good metallic paint pen occurred in 2009. I tried gel pens, calligraphy markers, oil based paint markers, and gold paint with the finest brush I could find. Paint markers ran out too fast or burped globs of ink on my work, working with a fine brush was time consuming, and gel pens just kind of suck in my opinion.
In the last two years, I have found my favorite products for metallic gold fine line work and now I can stop wasting my time and money (Hurray!). And of course I'm going to share my discoveries with you!
*Links contained in this post are affiliate links for Amazon and/or Blick Art Materials and I will earn a commission if you make a purchase at no additional cost to you. These commissions help fund more content like this, so thank you!
I'm going to go over three products: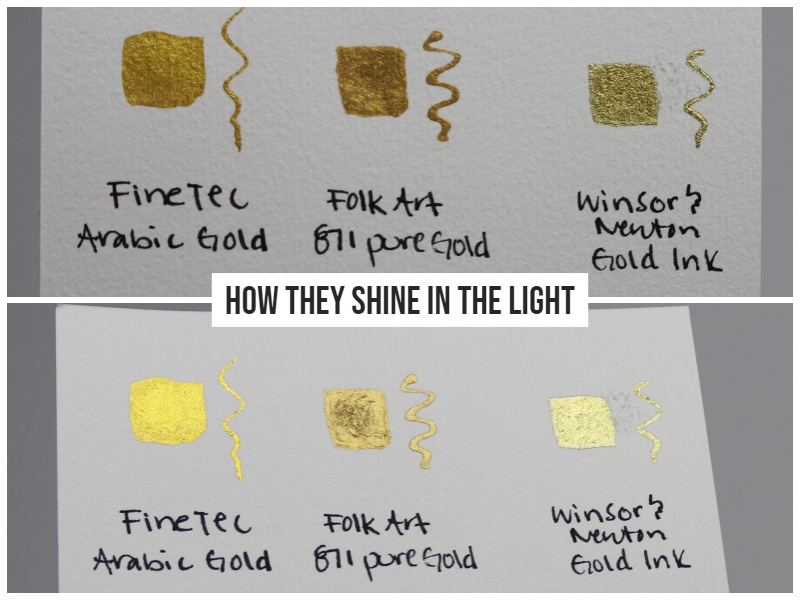 FolkArt Craft Paint in a Fine Line Applicator
If you are looking for a product to apply fine metallic gold line work on top of acrylic paint on canvas, craft paint in a Fineline Precision Applicator may be perfect for you.
I use this Fineline Applicator for all of my acrylic line work. You can read more about it here. Basically, take your shimmery gold paint and squeeze it into the applicator bottle. If the paint is thick, add some water and shake, but often these craft paint brands are thin enough to squeeze out of the applicator as is.
You can find a lot of metallic acrylic paints out there. I've tried many brands and applied my gold lines with a very fine brush, but craft paints often have more metallic shimmer to them in my opinion. Choose your preferred gold color and go to town!
Finetec Pearlescent Mica
This product is on my favorite supplies list for November 2019, but I have to gush more about it here. If you are looking for a super opaque metallic product to add on top of your work on paper surfaces, you have to try Finetec Mica Watercolors.
You can apply this product with a dip pen or brush. Each color comes in a solid pan, but all you have to do is wet the surface with water and rub a brush over the pan until the color starts to "melt". Then you can apply the mixture to your pen tip or use a brush.
Winsor and Newton Gold Ink
Before I discovered Finetec Mica Watercolors, this Winsor and Newton ink was my favorite for embellishing my paper works. The ink is easy to apply with a brush or pen nib, and the end result beautifully shimmers when it catches the light.
I usually use either a Speedball Sketch Pen (Amazon) or my new Tachikawa Comic Pen (Amazon) to apply this ink. Before dipping your pen or brush, make sure to stir the bottle really well as the gold settles at the bottom. You will also want to stir the bottle frequently if using the ink for a long sitting. This is my biggest complaint with the product–the gold settles quickly.
View hand-embellished prints in my shop: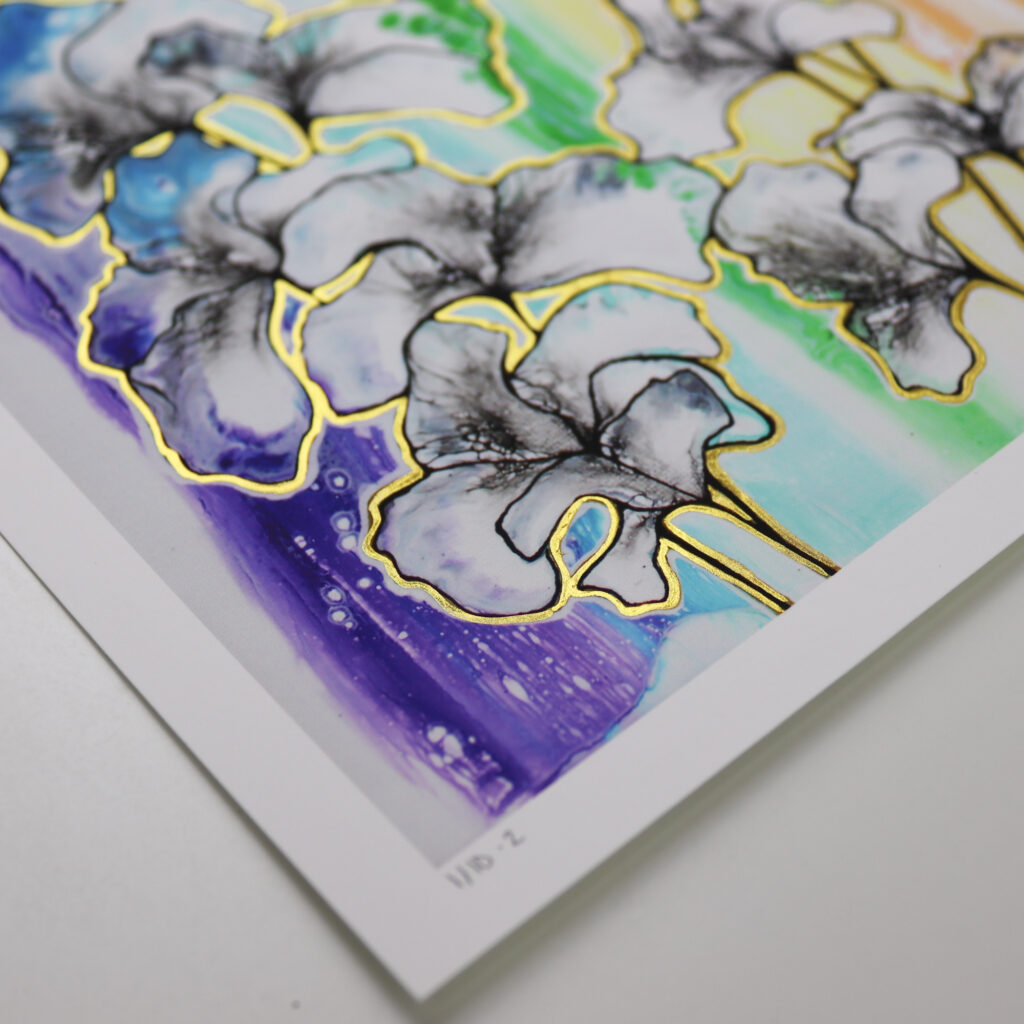 ***
There you have it! My top three materials for creating metallic gold fine line work in my art. Have you used any products that you absolutely love? Feel free to share your recommendations in the comments below while commenting is open.
If you enjoy learning about the supplies I use in the studio and want to know more, let me know through Instagram or Email, or consider becoming a Patron of mine to support more content like this. Now go get messy and share your creation on Instagram using #messyeverafter!
-Kelly