*Links contained in this post are affiliate links for Amazon and/or Dick Blick and I will earn a commission if you make a purchase at no additional cost to you. These commissions help fund more content like this, so thank you!
I get a lot of questions about how I make prints, and I have posted a blog about the topic before, but I haven't touched on the materials I use to hand embellish my prints (I don't think…). I'm sure there are multiple ways you can embellish prints, but I'm just going to share what I personally do to add the delicious little shimmering gold accents like the example below on my latest rainbow print run.
Why would you want to hand embellish prints? Well, for one, it looks cool. Two, it increases the value of your prints by adding the personal touch to each print. Three, it allows you to give customers a sense of "original" work without them having to commit to the price of a fully original piece.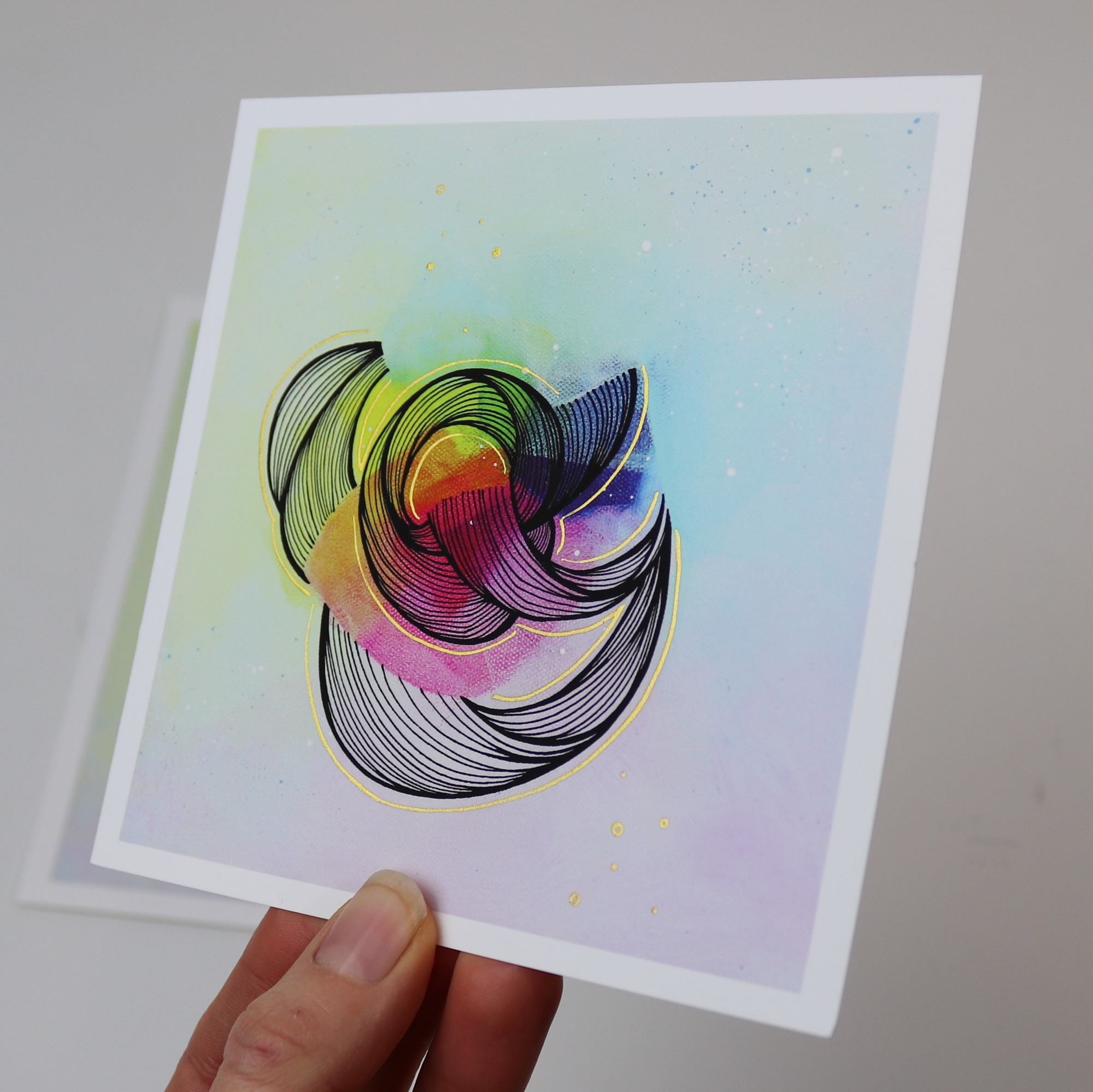 (You can buy this print through my store while in stock! Rainbow Coiling I or Rainbow Coiling II)
Printing Fine Art Prints Yourself:
I make all of my art prints at home. I do this because:
1) I like to control the process as much as possible. I spend a lot of time editing photos and tweaking colors so I can get them just right. Sending images to a printer gives me anxiety, because images from screen to paper can vary greatly. Proofs cost money, edits take time, and I don't want to get surprised when I receive a batch of prints that aren't to my liking.
2) It's cheaper in the long run. The initial investment is much more expensive, and learning how to use the equipment can be frustrating, but if you're a control freak like me then I highly recommend it.
3) I can do smaller print runs whenever I feel like it. I'm not a patient person. When I have an idea, I like to make it happen as soon as possible. Yesterday, I photographed, edited, printed, and embellished my prints all in the same day. You can't do that when you depend on a third party.
Equipment and materials I use to print from home:
Canon Pixma Pro 10 Printer (Amazon)- This is a pigment ink printer and the only printer I use at the moment to make prints. You can try the Pro-100, but that uses dye based inks. Pigment inks will last much longer when exposed to air and sunlight.
Canon PGI-72 Lucia Inks (Amazon) – I buy Canon inks, because I trust their quality. Sure, you could try the off brand inks to save a little money, but I stick with the tried and true.
Canon Matte Photo Paper (Amazon)- You can try a variety of different papers, but this is the product I've enjoyed for my embellished prints. In order to embellish prints, you are going to need a paper that will accept whatever embellishment you are adding. A glossy photo paper will not work–unless you are using Sharpies or something permanent. Whatever paper you get, try a test swatch with the material you want to apply.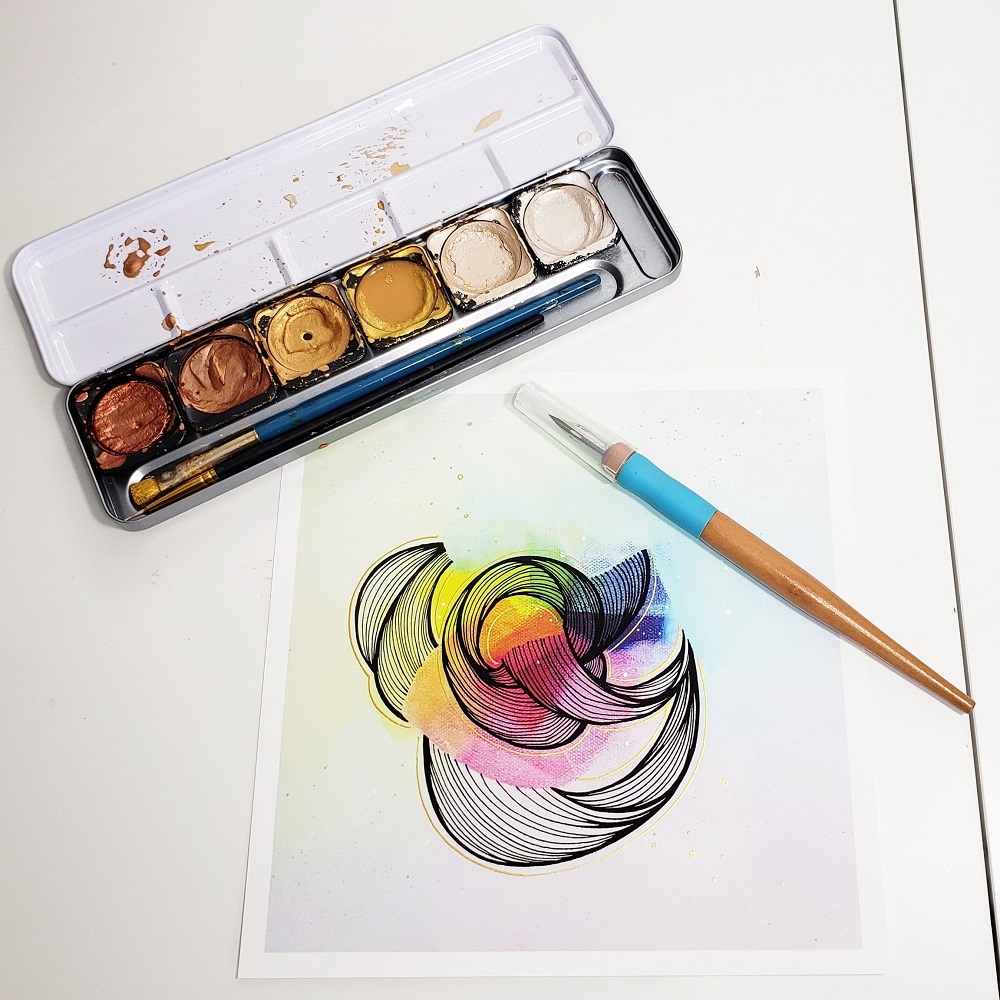 Products I usE to Embellish my Prints:
Adding metallic elements to my work is my favorite. Nothing makes my art pop like gold and silver shimmering awesomeness. For this latest batch of rainbow prints, I used a nib pen and watercolor ink to add my embellishments.
Tachikawa Comic Pen (Amazon)- I love using nib pens to apply inks to my paper pieces. Make sure to prep the nibs by running a lighter flame over it and wiping off the coating applied during manufacturing. If your ink won't gather on the nib, then there is probably residual coating still left on the metal.
Finetec Pearlescent Colours (Blick)- I can't get over these pearlescent watercolors. Get all the colors! All I do is spray a little water on the pan, swirl the surface with a brush until it melts into a smooth consistency, and then apply it to the pen nib with the brush. For these prints, I used the "Arabic Gold" color. These inks dry quickly and look gorgeous in the light.
Look how buttery smooth this pen applies the ink:
And just in case you're wondering how I package and ship my prints:
5×7 Crystal Clear Sleeves (Amazon)– I keep my work protected with clear sleeves when shipping, storing, or selling at local events.
5×7 Backing Board (Amazon)- Backing board keeps my work from bending when shipping, storing, or selling.
Rigid Mailers (Amazon)- And lastly, these are the mailers I use for shipping my work.
***
There you have it! My method for hand embellishing prints!
If you enjoy learning about the supplies I use in the studio and want to know more, let me know through Instagram or Email, or consider becoming a Patron of mine to support more content like this. Now go get messy and share your creation on Instagram using #messyeverafter!
-Kelly
SUPPORT MESSY EVER AFTER ON PATREON:
A lot of artists don't like to share their secrets, but I'm an open book. If you enjoy the content I create and the advice I give to other creators, please consider becoming Patron of mine on Patreon. Pledging as little as $1 a month supports this content and my career as an artist.
Further Reading: