What's the point of writing a blog?
Some people start a blog to talk about themselves. Some people hold onto the dream that they can make $10,000 blogging from home in the first three months (like, how?). Like me when I started, some blogs aren't seen by more than the writer's friends and family who are too nice to say "I don't want to read your stupid blog." A blog can serve you in a lot of ways, but it can also lead to a lot of disappointment if it doesn't have a purpose.
When you actually have valuable information to pass on, blogs are great. I started my first blog in 2014 as a place to share all of my random craft projects. This is when the name "Messy Ever After" was born. It didn't get a lot of readers. I really had no idea what my brand as a creator was at the time, but I had a lot of little crafty projects that others might get inspired by, so I blogged–and nobody read it.
Fast forward to 2017, my Instagram following started to grow around my artwork and I suddenly had the right focus for my blog: Helping other artists succeed. (Which is probably why you're here, right?)
Should you think about starting a blog?
I'm not going to sell you the fantasy that blogging will allow you to quit your day job. Sure, there are real stories out there of people making thousands of dollars a month through their blogs, but it takes a lot of work to get there. I'm not that hardcore when it comes to blogging.
Blogging can be very beneficial for your artistic brand if you're up for it. It doesn't have to take over your life. I write new posts a couple of times a month when I'm between paintings. But, if you try it and like it, maybe you'll be one of those fantasy stories someday.
So, why start a blog? There are many reasons, but here's why I do it:
The Benefits of Starting a Blog
1. You can create a sense of trust and community around your brand.
And trust leads to sales. When you are trying to create a career as an artist, you cannot just hope that your art will be awesome enough that it will sell on its own. You have to tell your story. You have to show your personality and connect with your audience. A blog can help.
As an artist online, you should already have a website with your contact info, and examples of your work. If you add a blog component on top of that and share interesting information with your readers, you can connect with your audience on another level and offer them something useful. (You may think your art is that "something useful", but until you convince people to want your art your customers are the ones doing YOU a favor when they buy from you. Not the other way around.)
2. You can make money.
Yup. You actually can make money blogging. Depending on the amount of time and research you want to put into it, you can eventually make quite a bit of money.
How?
Affiliate Links: If you are teaching others how to use art supplies or recommending any products to your followers, you can join affiliate programs and provide links to the supplies you recommend. This way you can earn a commission on sales. (You can look into Amazon and Commission Junction. These are the two affiliate programs I currently use and I earn a modest commission each month when my visitors make purchases through product links on my site.)
Ad Revenue: If you get a lot of traffic to your blog, you can include clickable ads on your site and earn commissions through clicks. (Google Adsense) Having a site littered with banner ads can be annoying, though, so be mindful of how your site looks.
Partner with Brands: Potentially, you can get paid by large brands to review/promote their specific products. Once you have a substantial following and traffic to your site, you will look more attractive to potential partners.
Selling digital products or services: I write my blogs to help other artists for free, but this actually just ends up being a subtle ad for my creative consulting services. If you are selling a service as a side hustle, a blog will help your potential customers feel comfortable paying you for more. (I also used to encourage readers to become a Patron of mine on Patreon to support more content like this. Or donate to my Ko-Fi page through the widgets below. *wink wink nudge nudge*)
Selling online classes: If you want to teach your own classes, writing blog content around the lessons you offer can help generate more interest. If you provide a little information for free and readers like it, they may be more inclined to pay for more intensive lessons.
3. You can create longer-lasting content that will drive traffic to your website.
Getting recognized online as an artist is hard. Social media posts only live for so long before they fizzle out. You have to constantly promote yourself across different platforms to get eyes on your artwork. It's exhausting. And if you pay for advertisements and promotions to get your work in front of people, it's expensive.
Writing blog posts can help your promotional content live a longer life online. If your blog content is closely related to your art business and is useful to a wide audience, your blog posts can drive traffic to your website for months and months without any additional effort after posting. This is what the traffic to my website looks like over 3 months. My blog is responsible for that organic traffic.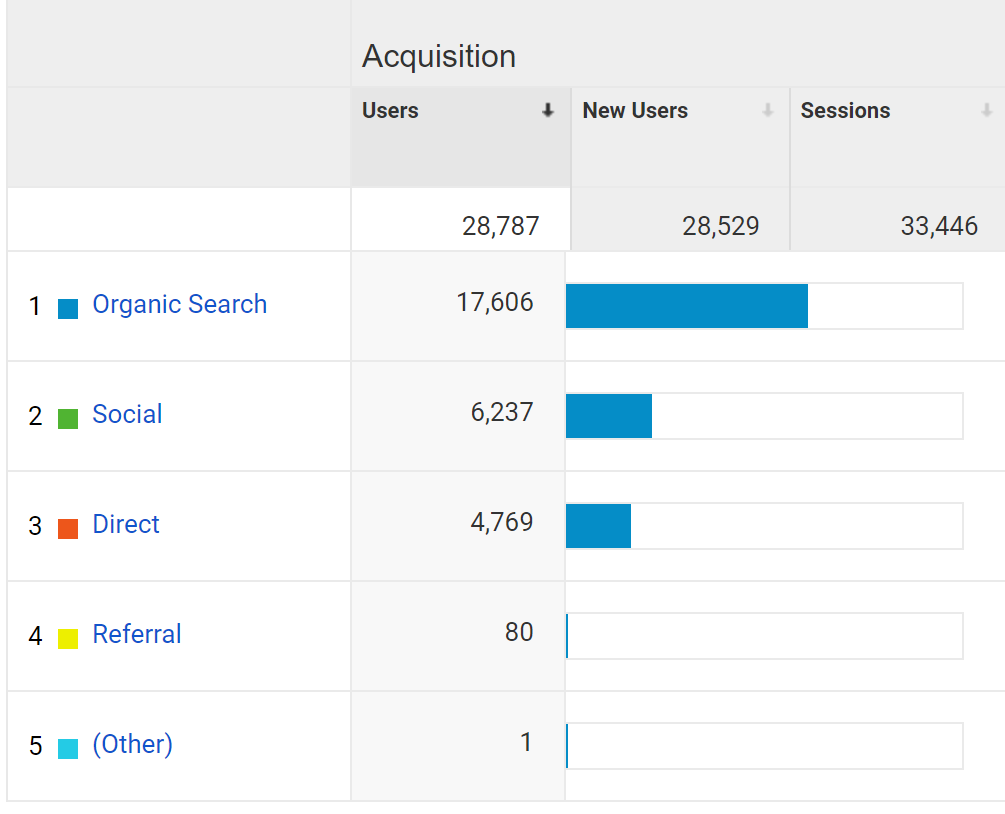 What should this content be?
One trick is to create content that includes common things people will search for. Right now, if you search for "How to grow an Instagram following as an artist" on Google, you'll find a link for my website on the first page of results. This doesn't happen immediately after you post new content. Blogging requires patience and smart SEO strategies, but I find it's worth it to keep creating this content.
How can you make blogging work for your business? If you are selling your art and want to write a blog post to act as a long-term sales promotion, you could start typing something related to interior design into Google. See how "bedroom design ideas" pops up as the most commonly searched phrase?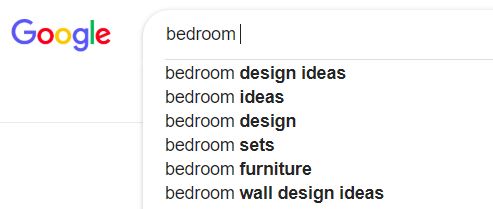 Let's say you wrote a blog post that staged your art in mock-up photos for bedroom design ideas, included tips on how to choose the right art to bring the room together, and then included a link to your store and the specific products shown in your photos. After including these highly searchable phrases in your blog title and body, this little blog post could start showing up in the search results after a couple of months and subtly get eyes on your art while also providing helpful design tips to your reader.
There are many topics you can write about, but always connect your content with your main goal (selling art, growing a following, getting consulting clients, etc.).
What do you need to start a blog?
If you are enticed by the perks I listed above, here are a few things to keep in mind before starting a blog.
1. Have something valuable to offer your audience.
Can you teach other artists a skill? Can you offer a new perspective to the art world? What do you have to offer? Do you have a really interesting personal story to share? Show your readers something valuable. You need to make people feel connected to your story.
What makes your voice, your story, or your message interesting? What do you have to say? Figure that out first.
Your blog isn't about you. It's about your audience. You may be writing about what you know, but you have to figure out how to make others relate to what you write.
2. Basic writing skills and a unique voice.
If you don't have the ability to form complete sentences that make sense, or still struggle with basic punctuation, you may want to brush up on those skills. Your writing doesn't have to be perfect, but it should get to the point, be reasonably organized, and leave your audience with something more than what they started with.
3. A desire to write and patience.
If you don't like writing, don't write a blog. If you lack patience, don't write a blog. It's not something you need to do. Blogging isn't right for everyone.
In the beginning, you'll want to be on a schedule and start getting good-quality content on your blog. I've said this before with growing your Instagram following, but it's going to feel like you're talking to nobody for a while. Be patient and keep creating quality content.
Having a desire to write will keep you motivated even when nobody is visiting your site during those frustrating first couple of months. I'm one of those people that has a constant internal monologue going, so whether a blog or a journal or word-vomitting all my thoughts on my partner–the words are there and they need to come out.
4. The internet, and a website.
Duh, right? You don't have to spend a lot of money to get a website up and running. There are a lot of great drag-and-drop website builders that make it easy to get started. Check out WordPress, Wix, Weebly, or even Blogger. I use WordPress for this blog. If you want your own custom domain, you'll need to spend some money, but you realistically can get started with a blog for free.
Since you are an artist online, you should really have a website right now anyway…
My basic layout for a blog post:
Start with content others may want to read about. Decorating their house, building their own art business, learning a new art technique, etc.
Insert your personal voice. Are you funny? Inspirational? Bust out the charisma. Show people you're worth listening to and make your readers feel like you're talking directly to them.
End with a call to action. You've given your readers free info and hopefully enriched their lives in some way. Now what do you want in return?)
And repeat.
What do you think? Ready to start blogging?
I have always loved writing, so blogging was a natural fit for me and my art biz. What about you?
Please leave questions and comments below while commenting is open or reach out to me directly through Instagram or email. I'd love to hear from you! Make sure to sign up for my email list below to never miss a blog post.
-Kelly
P.S. You probably know by now that I am here to help artists with these posts. If you need help with your online branding, Instagram account, or just want a creative accountability coach, then check out my consulting services. You can easily add a session to my online calendar now.
Further Reading: