Marketing and Promotions for Artists on Social Media and More
Promoting and marketing your own artwork online can be frustrating. Where are you supposed to start? Should you pay for ads? What is the best way to get your art in front of people? I can't tell you exactly what you are supposed to do in order to successfully promote your art online, but I am more than happy to share what I personally do to promote my artwork.
I didn't have a good plan when I started promoting my art online or even in person. In early 2017, I had no social following. My Instagram account only had 300 followers, and my Facebook page had maybe 130 likes. I also had no clear branding, art style, or idea of what I was doing. I was desperate to make it as an artist but was winging it.
Today, my Instagram account is just over 60k and I can actually pay my bills with my art income. I've learned a lot in the last year while promoting my art on the internet, and having persistence, patience, and willingness to evolve was crucial.
My Basic Internet Art Marketing Plan:
Like a lot of my blog posts, this will likely include way more information than is convenient to read in a short period of time–sorry not sorry. Instead of delivering vague and easily digestible posts, I like to include as much info as I can. So, here is my long-winded approach to promoting and marketing yourself and your art online:
Establish your goals.
Create quality content (art, blogs, classes, crafts, etc.).
Decide where you want to funnel your audience.
Figure out your 'brand' and your message.
Find platforms to share your work (online and in person) and put your work out there.
I suggest figuring out 1 through 4 before promoting your artwork, but if you just want to get eyes on your work regardless of whether or not you know what you're doing then go ahead and skip down to number 5. As I confessed above, I was just winging it when I started and it's okay if you are too!
1. Establish your goals.
Why do you want people to see your work? Do you just want to get attention? Do you want to teach people? Do you want to make sales?
My main goal in promoting my art is to generate art sales from my online store. My secondary goal is to get people to read my blogs and potentially gain consulting and coaching work.
What is your main goal? There isn't a right or wrong goal, but figuring this out will help give you direction.
2. Create quality content and products.
What are you selling? An idea? A lifestyle? A physical product?
Exposure is great, but it's not going to do you any good if the products you are offering don't look appealing. When I say create quality content, I mean everything needs to be good quality. Video resolution, lighting, photo quality, staging, captions, your message, etc..
If you hope to sell your original works of art you should know how to photograph your pieces in an attractive way.
For example, look at the photos below. The left photo was from a year ago. I posted a lot of ugly process photos which did nothing to 'sell' my art. As opposed to the post on the right which is a staged photo of a completed product that looks much more attractive. (Add a photobombing dog for extra love from the internet.)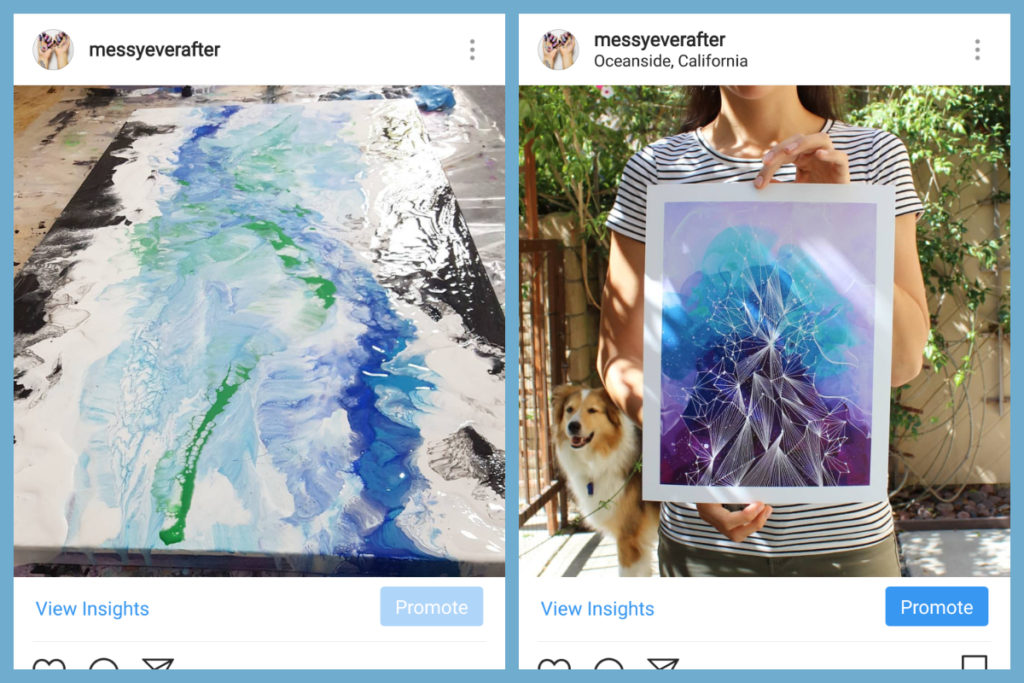 Your photos may not be the best at the beginning of your art markerting journey, but keep looking at what other successful artists are doing and mimic their photo compositions. Work on your style. Perfect your art. Create quality products.
3. Decide where you want to funnel your audience.
After you get someone's attention, what do you want them to do?
If you want to sell your work online, it's a good idea to set up a storefront (Etsy, Weebly, Shopify, etc..). If you produce video content, you'll likely want a YouTube channel. If you blog, you'll want a site like WordPress or Wix. Maybe you have an email list you want people to sign up for or affiliate links you'd like them to click on.
This goes hand in hand with your goals from above. Since my primary goal is to make sales from my online store, I use most of my promotional posts in various places to try and route people to my store.
Where do you want your audience to focus? Also read: What's your call to action?
4. Figure out your branding and message.
I should really dedicate another post to branding soon, but basically, your brand is who you are, what your art means, how you as an artist are involved in the process, and your overall theme. This means you should have a somewhat consistent style. You should be able to showcase a cohesive body of work and products that are connected to one another in some way.
You should also have a clear message to send to your customers to help establish trust. How do you want your customers to feel about you? How can you help your customers get to know the artist?
(Read about branding an Instagram account.)
Once you know your message, then you can start creating captions and calls to action that match your tone. If you've ever read any of my Instagram captions, you'll see how I try not to take myself too seriously or push sales too hard. I give a little insight into my daily life and then subtly tell people about new inventory in my store. This is a conscious decision on how I want my audience to receive my message.
So, what's your message, and how will you deliver it?
5. Find platforms to share your work.
Once you have your products/content, quality photos/videos, and a consistent brand and message, then it's time to get your work out there. The list below contains all of the places I've experimented with for promoting my art.
I have had the most success focusing on Instagram, and I do suggest starting there, but you don't have to limit yourself. Choose any platform to start and once you get the hang of one platform, expand to another. Make sure you can dedicate consistent time to whichever platforms you choose. Social media moves fast, so you'll have to post more often than you'd probably like.
Social Profiles:
Instagram– I post 1 to 3 times a day, plus post a couple of stories a day. (Use the right hashtags for your work.)  Your photos and videos really need to look good here. Captions can be short, but longer ones are more engaging.
TikTok- Post 1 to 3 times a day.
Facebook Page– I post 1-3 times a week. You can schedule posts ahead of time and be a little more casual with your content since your FB page doesn't act as a gallery like Instagram.
Facebook Groups– You can find bigger communities to post your work. These places aren't necessarily good for pushing sales, but they can get your general exposure. I've posted in groups like Just Art whenever I feel bored.
Twitter– I use this to post blogs and have no following so I only post once a week. Some people recommend posting a crap ton a day. Twitter is really really fast paced so post things that are easily digestible and post often.
Tumblr– I connected my Insta to Tumblr during the winter but had no idea what I was doing so I put it on the back burner for now. It could be worth exploring though. I'll let you know if I ever revisit it.
Content Sites:
Reddit-as the self-proclaimed "Front Page of the Internet" Reddit is a great place to share your work. Check out the genre-specific subreddits like Art. I share new pieces as well as promotions for my online store. Be mindful of each subreddit's rules. They don't mess around. You can find anything from illustration to fluid painting and a lot of dedicated artists and fans.
Pinterest– I pin every one of my blog posts and some of my store products on Pinterest. You never know what pin will take off, but definitely look around at successful pinners and boards to see what content people might be looking for.
YouTube– Art videos are addictive. If you ever get into recording your process, YouTube is a great way to expand your following. You especially want to focus on quality content here. See yourself as an entertainer rather than as an artist trying to push art sales.
Email List:
If you have a website, you should start collecting email addresses. My list is still small (and you might already be on it), but I send out one or two emails a month to update my dedicated followers about new sales, blog posts, and news updates.
I use the free option for Mailchimp.
Organic Google Searches:
I have been putting a lot of effort into my blog writing posts like this. Because of that effort, the traffic from organic searches surpasses literally every other social media source.
Here is the overall traffic to my website from Jul-Sept 2022: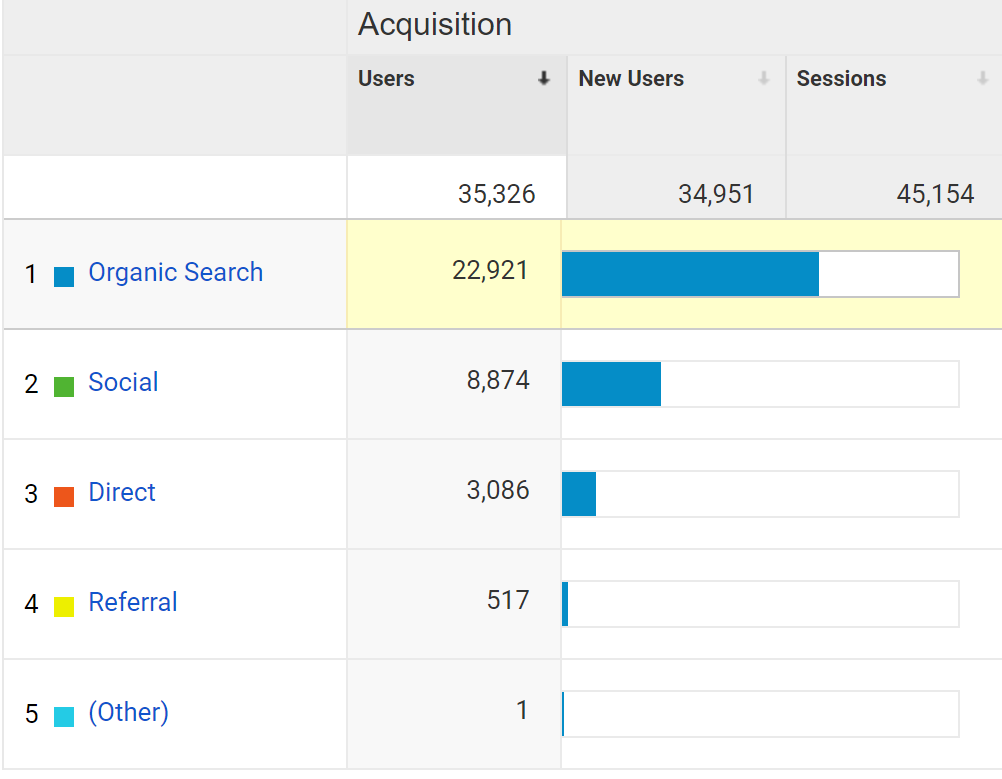 If you've ever thought about creating a blog around your art or art business–here's your sign.
A note about haters:
No matter what your art looks like, you're going to get mean comments and the occasional hater when you share things on the internet. You can't prevent it, so try and develop thick skin now. This post might help.
How do you know if your online art marketing plan works?
Here is a snapshot of the referring social media sites to my website for the last three months (Jul-Sept 2018). This is unpaid traffic from my social media marketing efforts. I use Google Analytics to track my traffic. If I try out a platform and see traffic from that site, then I keep putting time into that area.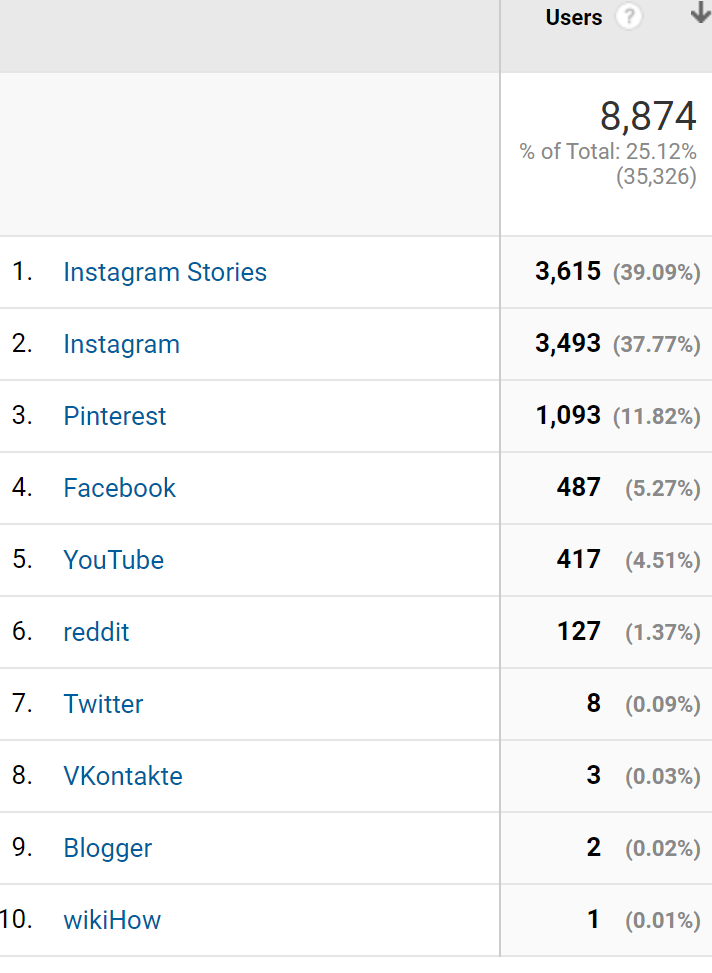 2022 Update: I'd just like to comment here about the power of Pinterest. This is a look at my social traffic from Jul 2022-Sept 2022. I took a break from most of my online activity during this period and social networks have changed a lot which explains my drop in all areas, but Pinterest is the gift that keeps on giving: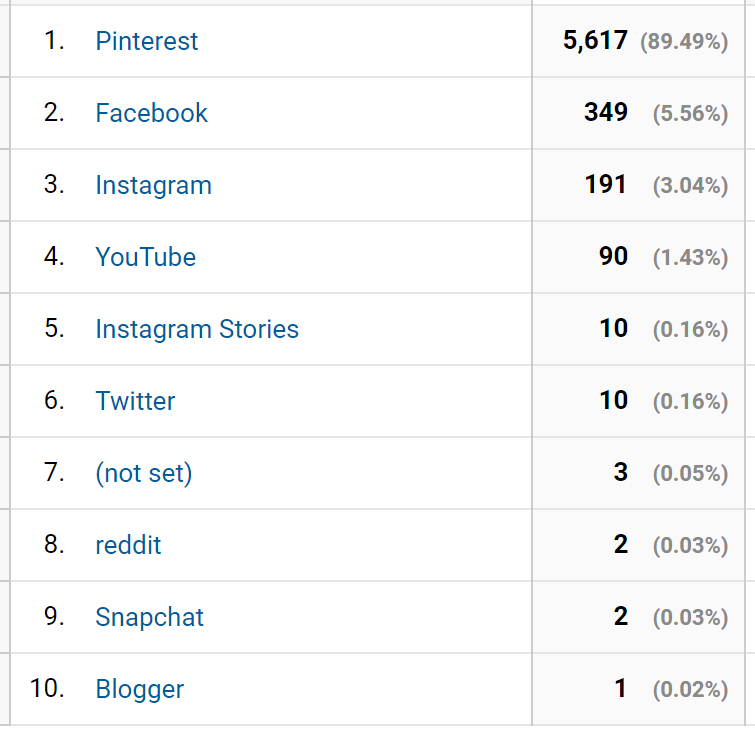 Content Sharing:
Gaining exposure and new followers is pretty easy when larger content-sharing accounts promote your work. This is actually how my Instagram following first started to grow. The hard part is getting those accounts to want to share your work. Lucky for you, these content sharers need you and you just need to get on their radar.
How can you get their attention? First, create good content like "viral" videos that are short and interesting and post them to platforms like Facebook and Instagram. Make sure you use good hashtags for organic exposure or reach out to popular accounts and ask if they want to share your work.
Example of a Facebook page that compiled a bunch of my Instagram videos and shared it.
This is why I can't stress enough to create quality content. You never know what image or video you share could take off. Yes, part of this is luck, but most of it is putting in all of the work to be in the right place at the right time.
2022 Update: With Tiktok and IG Reels, quality content can go viral all on its own and replaces the power of those big art-sharing accounts in a lot of ways.
Collaborations and Partnerships:
As your following grows, you'll have more power to potentially act as an "influencer" for companies. If you have favorite art supplies, start tagging the companies and create mini ads for them. If your content is attractive, it's possible they will share your work with their following. You can gain new followers, possibly receive free or discounted supplies, and more.
It doesn't hurt to message or email these companies to ask if they'd like to team up. If you do this, approach it from the viewpoint of what YOU can do for them. Not what they can do for you.
So far, I have received free art supplies from 4 different companies and even free soup from an awesome ramen company (A perk of talking about food a lot on Instagram apparently!).  I've also worked with a company to launch a product using one of my paintings as the design. I only worked for one of these opportunities, and the others found me through my social media accounts. This is proof that patience and persistence really do pay off. If I hadn't devoted so much time to growing my Instagram account with quality content, those opportunities wouldn't exist for me.
Paid Promotions:
Content sharing accounts
I do not and have not paid for any large accounts on Instagram to share my work. Like I said, content sharing accounts need content. If you know you are producing good content and are willing to be patient then I don't recommend giving away your money for a single post. Read: Stop Wasting Money on Art Sharing Accounts.
Instagram or Facebook promotions
I have been seeing a lot of promotions in my Instagram feed from small and underdeveloped artists. I am always tempted to message them to encourage them to stop wasting their money. If you don't have your branding figured out or have content that is high quality, ads are not going to help you. I wouldn't suggest using this as your first means to gain exposure as an artist. Read: Stop Wasting Your Money On IG Paid Promotions.
Say No To Bots on Instagram
I know it's tempting to try and take a shortcut when you are starting at the bottom, but please don't subscribe to any bot services or be tempted by the DMs on IG asking if you want to grow your following for a fee. Just don't.
Organic growth is much more satisfying and beneficial for your business. But hey, you don't have to listen to me.
***
Please leave questions and comments below while commenting is open or reach out to me directly through Instagram or email. I'd love to hear from you! Make sure to sign up for my email list below to never miss a blog post.
-Kelly
P.S. You probably know by now that I am here to help artists with these posts. If you need help with your online branding, Instagram account, or just want a creative accountability coach, then check out my consulting services. You can easily add a session to my online calendar now.
Further Reading: