In 2017, I went from 300 to 20k followers in three months.
When I was just beginning to explore how to become successful as an artist, blogger, or whatever I decided to be, I would peruse Pinterest for 'how to' articles and inspiration. I came across quite a few gimmicky looking posts with titles like "How I made $10k my first month of blogging" or "Gain Followers Without Much Effort". I'd read the posts and think "Those turds. That's not realistic."
Well, now I'm one of those turds. As of December 2017, I hit 20,000 Instagram followers. (As of March 2022, I'm at 132k followers.)
I gained a ridiculous amount of followers in a short time.
For anyone who has been following my Instagram account (@MessyEverAfter) in the last couple of months, I'm sure you've noticed things kind of exploded. I have been waiting for my growth to plateau, and somehow it just keeps trucking along. Multiple people have asked me how I did this, and I figured it's about time I write a blog post on it.
Honestly, it's hard to say exactly what should be done to gain followers. There is no guarantee that following these steps will get the same results for another account, but it's a great place to start. Before September 2017, I had been working for months on trying new things to gain exposure. I wasn't seeing much progress. January of 2017, I had 117 followers. September, I had 300. Super encouraging growth, huh?
What happened in September?
September 15th was the first time a large account shared one of my posts. Then another account–and another account. It snowballed and the followers poured in. Since I am a weirdo and love spreadsheets, I tracked that growth. Data points make me swoon.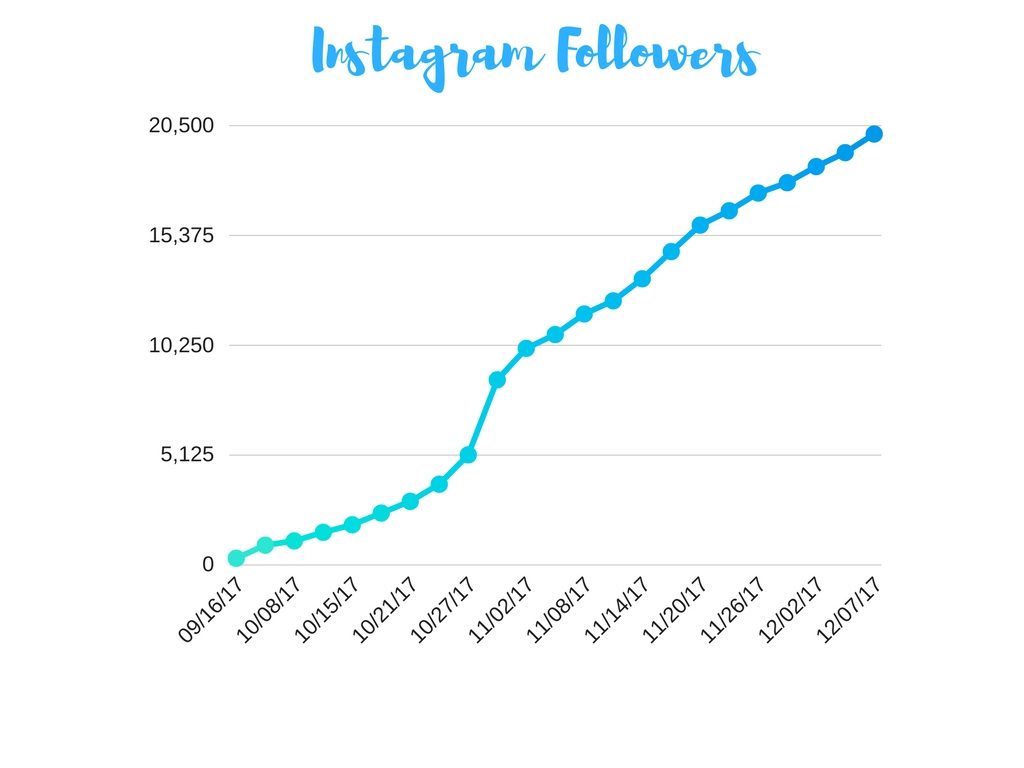 From 9/15 to mid October, I experienced a steady growth of about 50 to 100 new followers a day after a couple of accounts shared pictures of my work. Then, a huge account (500k followers) shared one of my process videos on 10/27, and my following grew even faster. Look at that spike!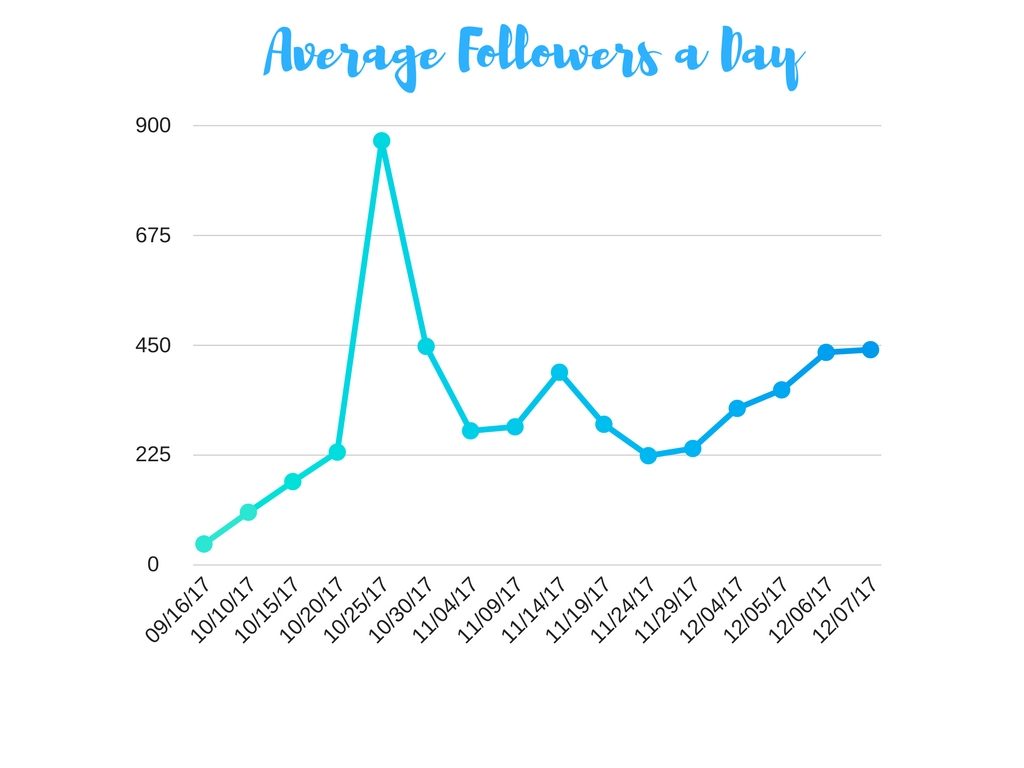 All of this is organic growth. I didn't use a bot., do 'follows for follows', or pay anyone to manage my account. I definitely worked hard to get here, but there isn't really a secret formula to success. Do the work, focus on quality, and have patience.
Simply having your work shared by a large account will do NOTHING for your account if a.) you're account doesn't have some basic things worked out (more below), and b.) the share account has terrible engagement (regardless of the size).
Basic Tips to Increase Your Instagram Followers
Focus on Aesthetics
If your profile looks cluttered, your art style is undefined, or your photos and videos look unpolished, no amount of exposure will help you. Before you waste your time with seeking art sharing accounts, consider the following:
Define Your Brand and Style: First and foremost, you're an artist. I assume you want to sell your work. There is an incredible amount of talented artists on Instagram, so you need to figure out how to market yourself to stand out. What kind of an artist are you? Find your niche and your artistic voice. (Easier said than done, right?! It took me forever to figure this one out.)
Create a Cohesive Profile: Take a look at highly successful art accounts like @liobaliobabrueckner and @lindstrom.emma. Their profiles are branded and striking. Post images and videos that adhere to your style and brand. If your work is black and white contour drawings, posting a colorful abstract piece will look out of place. At the beginning of the year, I was posting anything I created. Good, bad, related, unrelated—I posted it all. My profile looked like an artist without direction–which was accurate and explains why my following didn't move much.
Make sure you utilize your bio: This won't necessarily give you more followers, but it gives people a way to learn more about you and find your online store (If you have one. If you don't have one, make one. If you don't know where to start, check out this post!)
Focus on Community and Connection
Use post captions to show your following who you are: You are a brand now. Your personality and your life are part of that. Share interesting thoughts, snippets, stories, etc.. When people get to know you, they appreciate your art on a different level. (How to write engaging captions.)
Research Hashtags: Find hashtags that are relevant to what you do and use them on EVERY post. I found a few big accounts within my genre of art and I borrowed their tags. You can use up to 30 tags per post. I choose a variety of common and less common tags. I've also tagged my brand as #messyeverafter. (It's cool when other people start using a tag you've created!) The goal is to get into the top 9 of your tags.
Interact with your followers: Starting and continuing conversations on your posts make them more active. If people comment, comment back! The more active your posts are, the more Instagram's algorithm favors them. (So I've heard…)
Follow other artists and engage with their posts: Don't do follows for follows. This is more about creating a supportive network. I know it has made me feel like I have a community I can genuinely interact with. As an introvert, I really don't like 'networking', but this has actually been a really fun way to do it.
Respond to messages and questions: I have three types of followers. Those who create, those who buy, and those who do both. I love all of them. I have made sales through Instagram DMs. Be open and inviting, and people will be more likely to become your customer. People will ask you the same questions over and over again, but answer them with the same enthusiasm as if it's the first time someone asked. (And avoid responding to DMs with no purpose. A simple "Hi" in your message requests doesn't need a response.)
Focus on Routine
Post Every Day: I used to only post Monday through Friday. I was treating my art like a full time job that I could forget about on the weekend., but I now understand just how important it is to become mildly addicted to social media to grow your following. Make sure to post 1 to 3 times a day and even plan posts for when you're away from your work or on vacation when you want to grow.
Switch to a Business Profile: You'll need to attach your profile to a Facebook page (which you should already have anyway), but the analytics provided through a business profile are pretty insightful.
How I Gained a Crap Ton of Followers Quickly
Make and Post Videos: It really doesn't matter how great your art is. Posting a well lit video of your process, or a look into your studio can be more engaging than a still photo. Video posts appear more active, because users will likely spend 30 seconds looking at a video, and roughly 3 to 5 seconds staring at a photo. (How I make videos.)  (2022 Update: Post REELS!! Do it.)
Have your art shared by big accounts: (2022 Update: I don't recommend focusing a lot of energy on this. Posting Reels gives you a chance to go viral all on your own. Focus on great Reels.)
Notes About Large Art Sharing Accounts
In 2017, I was luck. I didn't seek out the accounts that shared my work. I would like to think that because I did the prep work above of creating quality content and tagging my work, it made organic shares possible. Some large accounts have hashtags specific to their account that they choose new art from. Some of them charge you to share your work, which I haven't paid to do yet, but I'm considering it as an option. (Update: I tried it. Don't waste your money.)
When looking at share accounts, check out the engagement on posts. Are they getting a lot of likes and comments? I've seen a few pay-per-share accounts that have a large following, but very little community engagement. I wouldn't advise giving them your money. If you are just starting out, small accounts are more likely to share your work and might provide more meaningful followers.
Things I don't Advise Doing to Increase Instagram Followers
Follows for Follows or Likes for Likes: This is where you spend time liking photos and following random people in the hope they will follow you back. It's time consuming, your new followers may not stick around, and eventually the amount of people you're following overshadows the followers you have. Tip: Just like and follow the posts and accounts you genuinely want to look at.
Instagram Bots: Bots can get you banned. Bots can go very wrong. Basically, you can use a bot to follow, like, and comment on other accounts by targeting hashtags. You can choose hashtags relevant to your brand and the bot will target accounts that use them. Sure, you can grow your following without even looking at your account, but you lose the sense of community and your new following may ditch you if you unfollow them. I haven't used a bot on this account, but I have seen them in action and I value organic growth much more.
I don't know exactly what will work for you to increase your Instagram followers, but patience is always a good thing to practice.
Growing your following can take time. I have been a "professional" artist, on and off, since 2010. I think it's fair to say that the success I have experienced with my Instagram account was only possible because of my entire art journey.
For a long time, I had no idea what I was doing and I too easily abandoned my dreams when I didn't get an immediate reward. I always came back to art, but I wasn't fully dedicated to my current path, but on 9/72017, I posted a piece with the caption:
"As an artist, I've always struggled with which direction to take. I love playing with different materials and styles. My subject matter always varies. A lot of my work may even seem disconnected. But I think I've finally done it. I've finally found my artistic path. The pieces that I've been working on lately fill me with a sense of comfort and contentment."
A week later, my following began to grow. Sometimes everything happens all at once. Sometimes you spend 7 years wondering why you can't fit into the normal world and just be happy with a 9 to 5 office job.
Life is strange.
Please leave questions and comments below while commenting is open or reach out to me directly through Instagram or email. I'd love to hear from you! Make sure to sign up for my email list below to never miss a blog post.
-Kelly
P.S. You probably know by now that I am here to help artists with these posts. If you need help with your online branding, Instagram account, or just want a creative accountability coach, then check out my consulting services. You can easily add a session to my online calendar now.