Picture This…
You're an artist trying to sell your work. Your follower count has been stagnant for weeks. You want to grow, but just can't seem to get exposure. An account reaches out to you to promote your art. Just $10 to share a single post. Sounds reasonable. You pay. Your post is shared. You wait for new followers to roll in…
You're not alone
I remember how frustrating it was when my Instagram account was stuck around 300 followers. I wanted to pursue my goal of being a full time non-starving artist, but how the heck was I going to do it if I couldn't get eyes on my art? I needed new followers and I needed them now. (Anyone else out there incredibly impatient?)
It's tempting to pay your way to a larger following, but does it actually work? Will it be beneficial in the long run? At all points of my Instagram journey, I have been baited by larger share accounts to promote my work. They leave a comment "DM us to be featured"

Or they send you a direct message with a  "Do you want to reach more followers?" Once you respond, they give you the numbers.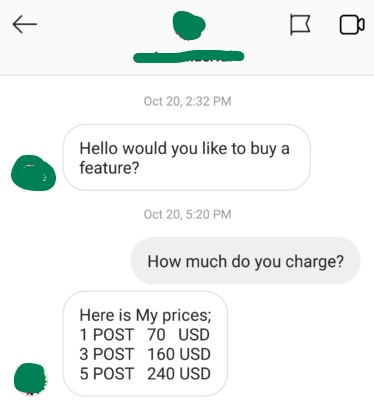 Some accounts will charge under $10 for a single post. Ballsy accounts will try to charge over $50 for a single post. They are all over the place and they will take what they can get.
Should you pay to have large accounts share your work?
If you have read any of my previous blogs about growing an Instagram following (here and here), you know that I first gained momentum when a couple of larger accounts shared my posts. It is the most effective way to gain followers quickly in my experience. When one account shared a time lapse video of mine on 10/26/2017, I gained 3900 followers over 4 days.
In October 2018, I gained a total of 13,000 followers on my account thanks to a couple other videos going a bit viral (this one, and this one) and being shared by multiple accounts.
It's pretty clear that having accounts share your work is beneficial, but I did not pay for any of those shares. I hadn't paid for a single promotion for @messyeverafter until November 9th of this year.
I wanted to experiment with a paid post for the purpose of this blog, and conveniently I had an account reach out to me. Initially they wanted $40 for a single post. I laughed and said "That's too much. I won't pay more than $10." They responded with "ok" and provided their Paypal address. I went ahead and sent $10, and hours later, my post was live.
The post got 6,000+ likes and 21 comments. I estimate I gained an additional 200-270 followers above my normal growth rate over three days. But as a data junkie, here is a fun insight comparison for you: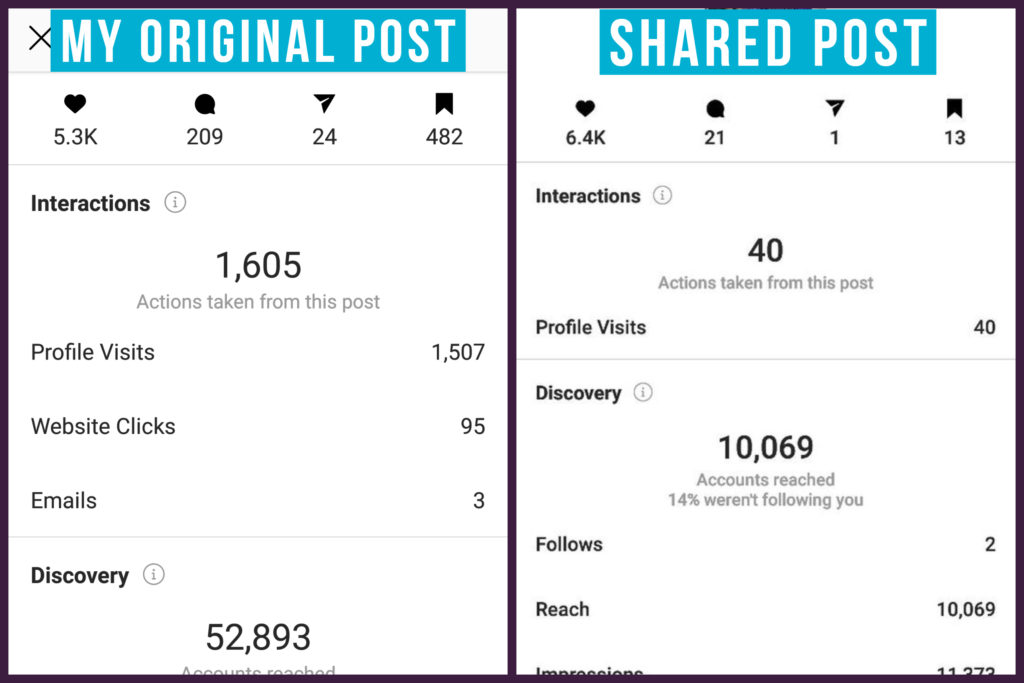 The share account I used has 522,000 followers. I had 86,000 followers. My post received 1,100 less likes, but reached 40,000 more accounts, had 450+ more saves, 23 more private message shares, and had 180+ more comments. I gained a couple hundred more followers, but the engagement on my own account is clearly more genuine.
Now, the share account in this example was very generous in supplying the analytics for this post, and I will not provide their name as an account to avoid. They were professional, prompt, and still provided a service that was beneficial. If I had only 300 followers and was suddenly up to 570 over a couple of days, the $10 would feel worth it.
It's possible I will pay for more promotions in the future just to see my numbers grow faster, but I'm going to be very selective with the accounts I pay. You should be too. If you are thinking about paying an account, do your research. Not every account will benefit you.
How to tell if a share account is legit:
Check their engagement using Socialblade

This is a website that will let you see just how socially successful an account is. A low engagement rate means their followers aren't all that active. A lot of followers means nothing if they don't actually interact with posts. If the engagement rate is under 1%, that's not a good sign.
Look at their likes and comments per post.

If they have 200,000 followers, but get 500 or less likes per post you may as well burn your money.
If they have thousands of likes on a photo, but 4 generic comments from other art sharing accounts, their engagement is likely from bots. Go buy yourself a burrito instead.
Look for comments from genuine people.

Look at the content they post. It will be a reflection of their audience.

If you're an abstract painter, you likely shouldn't try to get your work posted on a graphite drawing account. That's not your audience.
If they have a bunch of weird non-art content, same thing applies.
If they post a lot of content that just doesn't aesthetically look "good" they don't really care if the artists succeed. Avoid those accounts.
Tip: Be aggressive and negotiate.
These accounts can only stay in business if people actually pay them. They are desperate to take any amount of money from people so it's quite likely they will negotiate. If they say $10, say you only have $7. If they say $5, go ahead and offer $3. There are thousands of art sharing accounts out there looking to profit off your dreams. Go ahead and fight for a better deal.
In an ideal world…
Having accounts share your work for free is obviously the preferred way to grow. It takes patience and more attention on the quality of the content you produce, but it's worth it. Again, if you have followed my Instagram journey, you're aware that I went from 300 followers in September of 2017 to 87,000 followers as of today all organically. (Just ignore the 200-270 I paid for.)
I strongly encourage you to focus on free and organic growth. This will help you more in the long run with sales and potential sponsorships.
If you want large accounts to share your art without having to pay for it or reach out to individual accounts here are a few tips:
Create videos.

Videos are easy to share and are really engaging.
Have fun with the content. You don't have to do a complete start to finish piece. You can capture moments of your process. You can capture the beauty of art materials. (Pretty much just watch all of @polina.bright's videos. She's a master at pulling an audience in.)

Create and post as often as you can.

You need to produce and post quality content on a daily basis. Last fall, I was posting a video every other day and sometimes every day.
Post 1 to 3 times a day and keep looking for ways to make your photos and videos better.

Get a list of 25-30 hashtags that are niche and relevant to your art so you can maximize your exposure.
I rarely offer the "easy" way to do things in my posts. Easy is not really a word I would use to describe the process of following your dreams. I am very much a DIY, elbow grease kind of person.
In conclusion
Paying for big accounts to share you work can produce results, but make sure you are getting the best value for your money by vetting the accounts before paying.
Getting free exposure is very likely when you produce attractive content. If you would like one-on-one help to improve your content or get tips on how to grow organically I am always happy to offer my consulting services.
As they say, give an instagrammer a shared post and they'll gain a couple of followers for a day. Teach an instagrammer how to get multiple posts shared for free and they'll gain thousands of followers over a lifetime. That's how that old saying goes, right? 😉
Thanks for reading! If you have any questions or comments please leave them below while commenting is open or reach out to me directly through Instagram or email.
-Kelly
P.S. If you enjoy my blogs and gain any inspiration from the content I put out there, please consider becoming a Patron of Messy Ever After on Patreon. Pledging just $1 a month enables me to keep doing what I do. Plus, you get extra little perks like phone wallpapers and discounts through my store.
Further Reading: