Easy to Use and No Monthly Fee
After my last post about how I made it to 20k followers on Instagram, I received a few questions about how to set up a quick online store. Most importantly, how to do it without spending a bunch of money.
When you are just starting out as an artist, adding monthly expenses when you are barely selling anything in the first place is kind of a stressful decision. I had been avoiding eCommerce for months until I discovered Square Up has a no monthly fee eCommerce feature. I have been using their card processor for a while so it was a convenient and affordable solution.
There are plenty of posts out there that show you all the technical details you need to know to set up your store (this post and this post), but I am going to give you the artist's perspective.
Why Do you need an online store?
When you post new art on Instagram or any social media platform, it's not inherent that your work is for sale. Even if you include "For sale, DM me for details," you're going to miss out on sales opportunities. Making transactions as easy as possible for your customers is a great idea.
Create a store+Send followers to the store=Profit (hopefully!)
Basic Pros and Cons of Square Up
Alright, let's get to it.
Pros:
It's cheap and doesn't have a monthly fee. Square only charges 2.9% + $0.30 per transaction. (vs. Etsy which charges $0.20 listing fee every 4 months, 3.5% transaction fee, and 3%+ processing fee)
It's very easy to get started.
You can create discounts that apply to your store and in person.
You can take your inventory on the go. If you're doing in person sales, you can sell your online inventory from your Square register app.
Simple store front is perfect for a small amount of inventory (5 to 30 items)
Cons:
You can't set up shipping rules. You can do a flat rate, free, and/or add additional charges on each item.
You can only process orders within the United States
Sales tax features are limited.
There are only a couple of store front templates with limited customization.
No ability to categorize or filter items beyond 'Sections'. As you add more inventory, it's harder to keep things organized. (Which is why I don't recommend more than 30 items.)
No traffic analytics unless you set up custom domain and track on your own.
Basic Store Setup
You can find all the details of how to use Square's system here, but I will add some additional tips:
Choose a store name and custom domain consistent with your brand.

Pick a name that is consistent with your social media presence or business name (if you have one).
You can customize your domain or use the Square site. I just stuck with the Square site, because I knew I'd be switching to a new platform in the near future.

Set your shipping option (free or flat rate) and your order processing time.

I chose to just set everything as free shipping and factor this into my item prices. If you want customers to pay for shipping, I suggest coming up with an average cost and applying the flat rate by looking at your preferred shipping carrier's prices.
Processing time- when an order is placed, you must mark it as complete within your processing time window or Square will refund the charge.

Write a return policy-

It's not fun thinking about possible returns, but it's better to start with a policy than to be unprepared when a customer asks about it. Do some research on best practices for small businesses.

Customize your store receipt through the Square dashboard and include a discount code for the next purchase. This increases the likelihood someone will buy again.
Store Front Editor
You'll want to make sure your store is attractive and clean looking. Square has four template options available for your store front that are sleek and simple. You can't do much customization for the design, but you are able to upload custom images for your logo, header, and two spots near the footer.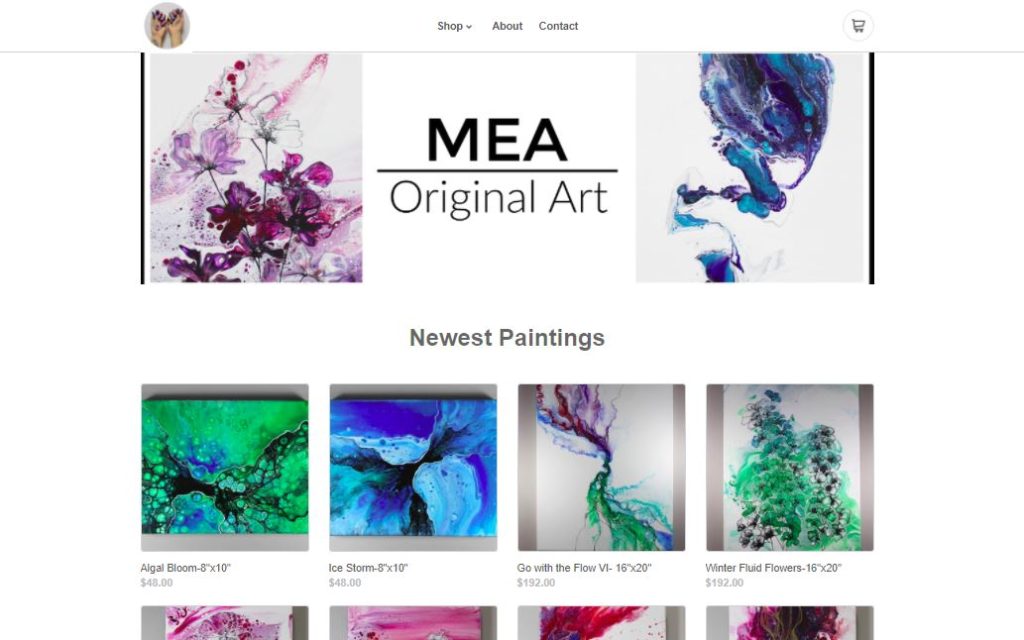 Take advantage of the 'About' and 'Contact' section to give your customers more information about yourself. Telling more about you as an artist will make potential customers trust you more. There is a face and life behind the art you create. Showcase all of it.
When designing images, it's important to keep size restrictions in mind to avoid unintentional cropping. I didn't find this image size chart until after I set up my store, and it would have saved me some time. Use it.

If you need help with designing images, try using Canva or BeFunky.
Setting up Items: Photos and Details
It takes time, but set up your items with great attention to detail. You want to communicate as much as you can about your products so customers feel comfortable buying from you. I browsed a lot of Etsy shops to see what successful sellers were doing and found they included a lot of detail. Brainstorm all of the questions you might ask as a consumer and more.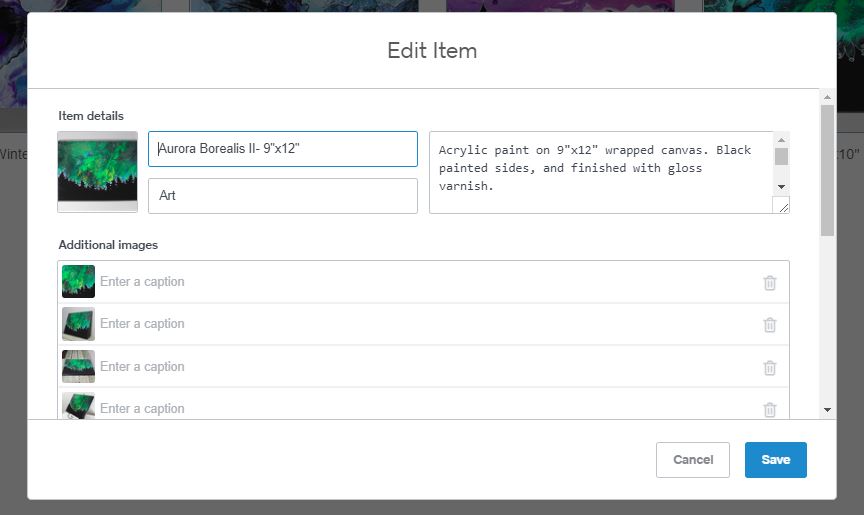 Details to Include
Item title- I like to combine details with the title of the piece. (ex. 8″x10″ Fluid Painting: 'Cosmic Tree')
Description: Include materials and medium used, item size, and what makes the work unique/how it was created. Sell it!
Photos with multiple views, in natural lighting or with daylight bulbs. Note: Item photos must be square. (check out this post for photo tips)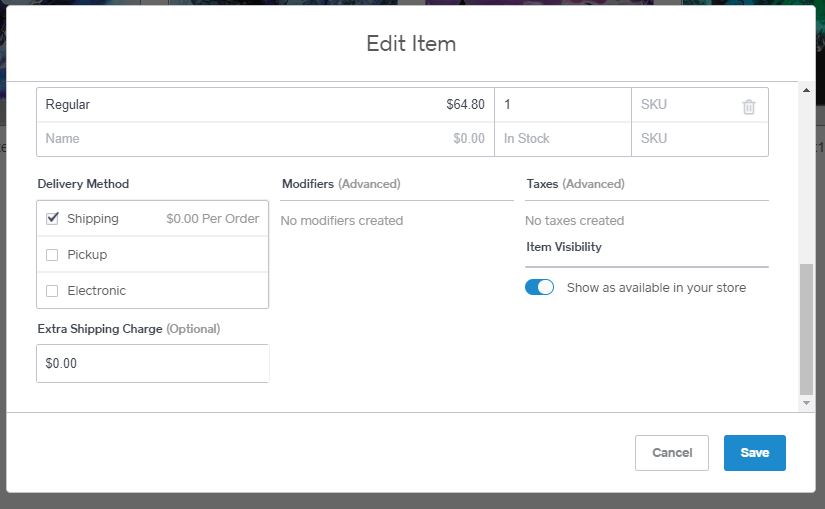 Price (I'm working on a blog post for this! Stay tuned.)
Inventory quantity- make sure to include this to avoid duplicate purchases.
Extra shipping charges-like I said before, I included an average estimate of shipping costs in my item prices to avoid having to mess with the Square's limited feature.
Taxes- Again, the tax rules are limited. Since I didn't know where my customers lived, I included a note on my description that sales tax is included in the price if they are a resident of my state, and I manually figured sales tax on my end for records. It's not optimal, but it was a short term fix.
Con to adding items: It's a little annoying, but you can't upload all or your photos at once, or copy items. This makes updating inventory a little more tedious than I would have liked.
Lastly
Now that you have everything you need to get started, I wanted to go over something else. Creating an online store isn't one of those "build it and they will come" situations. If you don't have much of a following, you may not get much traffic to the site.
Your store most likely won't show up in online searches since you don't have control over the SEO, but here are a few tips:
Quick and Simple Tips to Drive Traffic to Your Store
Include store link in your Instagram Bio. Every time you post new items, include "Follow the link in my bio," or something similar to make sure customers know where to go.
Include store link on your Facebook page call to action button. (If you don't have a FB page, make one!) Follow the same tip for Instagram posts.
If your following is really small at the moment, consider creating an Etsy Shop to take advantage of their traffic and possibly even pay to promote your items.
Pin your items on Pinterest.
Update your store often: You need to keep adding new inventory and remind your following that the store exists. I upload new items once or twice a week in batches of three to five pieces then post the update on social media.
Run promotions and discounts! Who doesn't love a good sale?
So there you have it
I used this store for about 6 months and just upgraded to Weebly. I was able to generate quite a few sales, but I missed many international orders due to the processing limitations. It is a great starter store, depending on your needs.
If you are interested in opening a Square Up store and don't have an account, you can use this referral link: squareup.com/i/GOGETMESSY
Referring others to use Square Up earns you up to $1000 in free processing–so if you sign up, make sure to refer others with your own code 😉
I hope this article was useful! If you have any questions or if there is anything else you want to learn, please comment below. I'm always happy to answer questions and get inspiration for new blog posts!
-Kelly
P.S. If you enjoy my blogs and gain any inspiration from the content I put out there, please consider becoming a Patron of Messy Ever After on Patreon. Pledging just $1 a month enables me to keep doing what I do. Plus, you get extra little perks like phone wallpapers and the ability to pick my brain whenever you want through the artist Q&A perk.